"GMC Vintage RVing" is everything GMC Motorhome!
---
This 4-color magazine includes news and features plus columns such as the Technical Corner, TZE Zone, GMCMI Tidbits, GMCMI Convention/Events, GMCMH Events Calendar, President's Column, FMCA Report and Sunshine Report. Don't miss the latest in GMC Motorhomes for sale, new parts for sale, used parts for sale, service facilities and the member wanted section.
If you are not a member, we invite you to join to receive additional information such as the publication (newsletter/magazine) index, membership directory and the "priceless" parts interchange index (in paper and electronic formats). For more information click here.
---
>>

The Winter 2017 issue of GMC Vintage RVing – Now Available!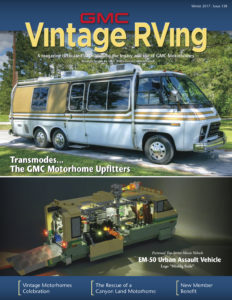 ---
>>

The Fall 2016 issue of GMC Vintage RVing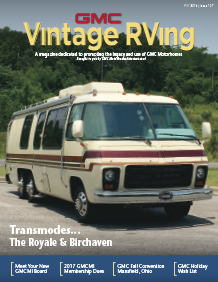 ---
>>

Past issues of GMC Vintage RVing
---
GMCMI members may download the magazine in pdf format by signing into the members only area of the website and going to the GMCMI Newsletters & Magazines page.
---