GMC Motorhomes for Sale – Listed by Year and Model
---
This page is viewed over 3,200 times a month!
A GMCMI Member Benefit: GMCMI members selling their GMC Motorhome can receive a free ad listing on the gmcmi.com website (plus up to 9 photos), quarterly magazine and announcement on the GMCMI Facebook page, Vintage GMC Motorhome facebook page and the gmc.net (forum). Click here to download a printable copy of the GMC Motorhomes Classified Advertisement form for the magazine in Adobe PDF format. Please note if you wish to list more information that what is allowed in the magazine, please do so on separate sheet of paper or via email. For more information email .

NEW Member Benefit | GMCMI Member Benefit: GMCMI members selling their GMC Motorhome can transfer the remainder of their GMCMI membership to the new owner! Simply inform GMCMI at and a new member packet will be sent to the new owners. Plus, the new owner can purchase the GMCMI Flashdrive for only $10! (including shipping)
Not a GMCMI Member: Simply click here to join GMCMI for $40 and receive all of the member benefits as well! Including free advertising on the website and magazine.
Click here to see GMC Motorhomes that have sold via this listing!
---
1973 Canyonland
NJ | $6,500 | listed 1-3-17
Rich DiNucci | | Cell: 856-889-1135 | Hm: 856-629-3518
Original condition – 2 owners, 61,512 miles, owner's manual, parts book, complete service manual and service records, original paint, 455 engine, electronic ignition, 4K watt Onan generator, rebuilt radiator, new master brake cylinder, new break cable, all wheel bearings replaced, new Dana compressor, new hitch, newer Dometic 2 way refrigerator 10 years old only used once, awning, CB, Blaupunkt radio, new carpet. All reasonable offers considered.
Please contact me for more photos and updated info if needed.
---
PRICE LOWERED!| 1973 Custom
NJ | $25,000  $18,000 | price lowered 1-28-2017
Bryan Strickland | 609-927-2210
ustom Motorhome with a 455 Oldsmobile engine, headers, fuel injection and much more.  There is well over $40,000 in upgrades inside and out to this professionally renovated motorhome with just about everything on the interior being replaced and/or upgraded (this includes electrical, plumbing, ceiling, interior walls, insulation, cabinetry, appliances and much more).  The generator was removed and replaced with a 100 watt solar panel on the roof and 4 deep cycle batteries.  It is mechanically sound and ready to travel anywhere.  This motorhome is located in Southern New Jersey and is garage kept. Additional pictures are available upon request.
List of improvements:
Alcoa Wheels (7)
Doug Thorley Headers (Ceramic coated) Turbo City Fuel Injection (7/2008)
Heads; Timing Gear/Chain & Water Pump were all redone @ 137,525 miles Starter replaced (2/2000)
Variable Speed Flex-a-lite engine fans Electronic Distributor (6/2008)
Ragusa Aluminum Transmission Pan
Upgraded Stainless Steel Motor Oil Lines Power Brake Booster (7/2002)
Caspro Sway Bar
Upgraded Air Valves at Dash (Power Level II-9/30/08) Rebuilt Air Compressor (4/2002)
Upgraded Stainless Steel Air Tank (4/2002) Upgraded Side-view Mirrors (10/2001)
Upgraded Windshield Wiper Arms Upgraded Rectangular Headlights
Updated Tail Light Lenses T-Skirts
Ragusa Wind Wings Ragusa Bumper Step Pads
Ragusa Aluminum Folding Step
Zip Dee Awning (full length on passenger/door side) Zip Dee Awning (living room/kitchen windows) Full Windshield/Side Cab Exterior Window Cover
35 Gallon Fresh Water Holding Tank (Replaced 6/2000)
Four gallon Electric Hot Water Heater (7/2000)
Black Water Holding Tank (Replaced 8/2007)
Updated Plumbing
Updated bathroom faucets (sink & shower are separate)
Thetford Aqua Magic IV Toilet
Mac 3 Plus Roof Air Conditioner with Heat Strip (7/1999)
Fantastic Fans with MaxxAir Vent Covers (3)
Suburban Furnace (Replaced 5/2004)
Updated 12 Volt & 110 Circuit Panel Updated 30 Amp Power Cord
Four (4) Six Volt Golf Cart House Batteries (7/2008)
100 Watt Solar Panel
Portawattz 1700 Watt Inverter Macerator (9/2003)
2" Towing Receiver
Custom Interior (Upgraded 2008-2009)
FRP (smooth) Ceiling/Walls/Door
Ragusa Aluminum Grab Bar (replaced pull strap on inside door)
Custom Sliding Screen Door
Custom Screens for Cockpit Windows Solid Wood Custom Cabinetry
Corian Countertops with Stainless Steel Bar Sink/Faucet
Three Burner Propane Cook-top
Sharp Convection Microwave Oven
Dometic Refrigerator (Electric & Propane)
Day/Night Shades (all windows)
Flexsteel Couch (folds out to a bed)
Custom Couch with storage
Flexsteel Captains Chairs Driver & Passenger Seats
New Carpet (10/2014)
---
NEW! | 1975 Glenbrook – 26′
IN | $19,900 | listed 4-13-2017
Dan Funk | | 812-453-4988
Oldsmobile 455 Engine, 105,000 Miles on Chassis, Onan Generator, Engine is Up-To-Date and
Well- Maintained, Stored Inside
Many Updates and Upgrades Including:
• Aluminum Wheels, 2008
• Transmission Rebuilt, 2007
• All New 3" Exhaust Pipe, 2002
• Full Fuel Line Replacement, 2004
• Fresh and Waste Tanks, 2002
• Airbags, 2001
• Repainted, 2005
• Interior Redecoration (Headliner, Carpet, Curtains, Seat Covering, Counter Tops, and Paneling), 2001-02
• Cruise Control, 2002
• Norcold Two Way Refrigerator, 2014
• New Furnace, 2017
• And many more, too numerous to list
More pictures available on request.
---
1975 Palmbeach
MO | $16,000 | listed 5-12-2016
Good Condition – Many Mods – Route 55 Theme.
Bobby Palmer |  | 816-373-4443
---
NEW! | 1976 Eleganza II
IA | $11,500 | listed 4-21-2017
Matt Sladek | 319-333-4354
Our family will be moving out of state soon and are unable to take our GMC. Hoping someone can make good use of this camper, as it is in great condition and ready to roll. I purchased it locally in May of 2015 and set about getting all maintenance completed and documented. A list of the major things done in the past two years:
Added 7 Alcoa rims and new Cooper Discovery tires.  Tires have approximately 500 miles on them.
Upgraded front brakes to 80mm and rebuilt the four rear brakes.
Replaced radiator with the Griffin radiator from Jim Buchanan, installed new water pump and fan clutch at the same time.
Replaced 3.07 Final Drive with a 3.42.
Swapped out original Buzz Box with a PD9270
Upgraded to electric wipers with Ken's kit
Installed a wireless backup camera
Rebuilt black tank dump valve with Valterra components
Had Onan carb rebuilt by Luis Salas at Walboro
New fluids, filters, etc
New mufflers installed last summer
New, leak-free kitchen faucet
Motorhome is in very good condition. Mostly original interior, with the exception of Flexsteel driver and passenger seats, and a permanent bed in back, replacing the rear fold-down seats. Cabin air conditioning works great, dash air conditioning does not. Prior to my ownership, the driver side windshield had been replaced. Passenger side is original and only showing minimal fogging. Zip-Dee awning in very good condition. One of the gas burners has been replaced with an electric coil, so you can cook off camp power if desired. On the monitor panel, the water level and black tank level gauges do not work. Everything else on the interior is in tip-top shape.
Mechanically good.  Has the Olds 455. The transmission has a small, persistent drip around the pan gasket. I installed a transmission drain plug when I first dropped the pan to replace the filter, so much easier and cleaner to change fluid. There is also a small exhaust leak at the front of the passenger manifold.  The manifold is not cracked, just not properly sealing. New exhaust gaskets included.
Motorhome has 78,000 miles on the clock, Onan around 227 hours. Sale includes a very nice, snug cover, lots of extra parts (fuel pump, water pump, etc), full set of manuals, and my maintenance log with all work performed, part numbers used, etc.
This GMC comes with a good Iowa title. It is currently a bonded title, which does not affect the transfer of ownership. The gentleman I purchased it from had owned it for nine years and could not find the title. I went through the relatively painless process with the Iowa DOT to acquire a bonded title.  The bonded designation stays with the title for a total of three years, so one year remaining. A bond has been placed with the State of Iowa.  In the extremely unlikely event someone can prove valid ownership of this vehicle, they would receive the bond, not the motorhome. In 2018, the "bonded" drops off the title and a new title is issued.
For anyone outside the area looking to get another opinion, Bob Dunahugh lives about 30 miles north in Cedar Rapids and is familiar with this machine. He has offered to help with an inspection and can be reached at 319-521-4891.
Great machine that can provide many years of miles and smiles.  Please call anytime with questions.
---
1976 Santana by Roll-A-Long – The Paradise Cruiser – 1 of 29 made
FL | $35,000 | listed 1-3-2017
Paul Falce| 386-290-2279
Ok everyone knows this coach, most of you know who did a lot of the work, need I say more about dependable I want to downsize to a 23 footer and the wife is going to be off her feet with her surgery, now is my time to downsize. YES, I know I love traveling in this, Always and everywhere invited to show off.
Here is a list although I'm sure I missed something. yes, you have questions and yes all the work done can be checked and is all in the last 3 yrs.
Yes, you can pay less for another or buy this and be a pirate of the asphalt sea, she is TRAVEL ready, I will personally deliver to your location and give keys right to you, check my Travel page to see where she has been seen. here is the list
Ready for delivery, although I will continue to use until wife's surgery I have nothing to hide on this coach, Ask any questions, tons of photos RV upgrades – Less than 3 Years
New Motor in 2014
New intake manifold new stainless valves Feb 2016
New Manny Tranny Sept. 2016
Front End Rebuilt 2015
Rear End – New bearings and seals 2015
Awning New Canvas and assorted hardware
Four Bag Air Suspension Leveling System
New Rims 2015
Tires are all purchased within last yr
Firestone TransForce 2016
Jack TV Antenna 2015
Exterior Air Compressor Hose Attachments
Schrader Valves 2014
Side Markers – LEDS 2015
Clearance Markers – front LEDS 2016
New Tail Lights – LEDS – Back Up Lights 2015
New Headlights upgraded to Rectangular with LED lights 2016
Outside Electric Plug 2016
Steering Box Replaced 2015
Upper Slip Shaft replaced 2015
Steering Wheel Tilt Yoke replaced 2014
New Dashboard Mac dash supreme 2015
New Dash AC Compressor & Dryer Receiver Upgraded to 134 2015
new mufflers 2015
New Alternator 2015
New Starter 2015
New Surround Sound System and New Front Radio with Six speakers 2015
New Steering Wheel 2015
Newer refrigerator and stove 2013
Windows – New Rubber Trim and Tinting 2013
Tires New in2015-2016
All New KYB Shocks 2015
Generator Carburetor Rebuilt 2016
All New Interior Lighting – LED 2015
New Black Water Tank and Fittings 2014
New toilet 2015
New Water Pump for fresh water 2015
New Adjustable Drag Link 2016
New Lines to Gas Tanks 2016
New Fuel Senders 2016
Tanks cleaned and checked 2016
New body Isolators 2015
New Fuel Transfer Switch 2014
New Front Brakes 2016
New Distributor 2016
New Carburetor – Dick Patterson 2016
New Vinyl on Exterior 2015
New Ragusa Step 2015
New Monitor System 2015
Fully Insulated 2015
New Speedometer 2016
New Inverter and Breaker Box 2015
All New living area Electrical Wiring 2015
New Front Drapes 2015
New Propane Regulator 2015
New Exterior Handle and Porch Lights 2015
Custom Interior 2015
Ken Henderson electric wipers
interior lighting led 2015
Custom Paint 2014
All ACs Work
new cooling fan clutch 2016
new 9 lb radiator cap 2016
new microwave oven 2016  new kitchen, bath sink and shower faucets
memory foam mattress both beds
Lots of little items, new city water hook up, back up lights are led, awning canvas on top is custom color and more expensive fabric, to many little things to list by number, important no but add to upgrade, like LEDs in cabinets, steering with one finger, yes is that good.
The interior is real Bamboo with 3 coats of urethane. Comes with a coach that makes into a bed and can be swapped out for swivel chairs. unique, gen is on Passenger side. Has more storage then you can imagine set-up is twin beds.
---
1976 Glenbrook
NY | $14,999 will entertain all offers | listed 6-21-2016
Suzanne (DelVecchio) Glenn | | 214-616-9792
About 54K mi; owned by former GMCMI board member, George DelVecchio. Interior description: Dinette with Captain Chairs in living space; Kitchen with stove, oven, refrig/freezer, sink; Rear master with Full sized bed. Wet bath with commode, shower, sink. Lots of storage throughout. This motorhome attended several of the rallies from 2009 to 2013. It's exterior is white with black/Maroon accents – repainted by prior owner. Has on board generator, heat and A/C, house batteries separate from engine battery. Switch installed to interchange batteries (learned at one of the rallies.) If you met and got to know George, you would recall his love of cars, planes and GMC coaches! Please help George's bride of 60 years, Joan, find a new owner for this lovely motorhome!
---
1976 Palmbeach
MI | $19,500 | listed 2-22-2015
Fred Drankoski | fdrankoski@yahoo.com | 586-263-9107
Current mileage: 82,847. Refurbished by Buskirk-Rush at 79,153 miles. New tires, paint, upholstery, furnace, roof ac, Flexsteel sofa, Fantastic Fan, custom mattress. Generator.
---
NEW | 1976 Royale
OR | $18,500.00 OBO | listed 2-17-2017
Gary Bray | | 503-936-8817
Very well maintained. Just had a complete tune-up, safety check and new batteries, it is ready to go.
73,000 Miles
455 V8 Engine
3 Speed- Automatic Transmission
Front wheel Drive
Power Brakes – Power Steering
Roof Air Conditioner
Forced Air Furnace
Sleeps 4 comfortably
2 Sofa's /converts to 2 Twin Bed
Bench Dinette with Table/ converts to Dbl. Bed
Walnut Interior Cabinetry
4 Burner Stove, Refrigerator/freezer
Stainless Dbl. Sink
Lots of storage
Rear Bath
Fully Self-Contained
12V system
Monitoring Panel for battery, tanks, generator hr.
Original owners manuals
Updated interior
Awning
---
PRICE LOWERED! | 1976 GMC Motorhome (Transmode Conversion)
MI | $18,000 | lowered 1-28-17 | $23,000 | listed 07-19-16
Tom Dixon| | 586-731-9037
455 engine; 3.55 Final Drive; 132,523 original miles; 6K Onan generator; Xantrex Truecharge 40+ multistage charger; Alcoa 16″ rims; Birch screen door; Ragusa step; hitch and electric for towing; dark tint on all side windows; side bath; Duo-Therm Penquin low profile 13,500 BTU roof air: Fantastic fans in front and rear; driver and passenger 6 way power seats in customized leather; leather seats in dinette; extra counter space in kitchen area; 6 ft. storage bench with seating; microwave; 2-way fridge (110VAC and propane); 4-burner cook-top; TV outlets in front and rear with cable/air TV switch; roof storage pod; golf cart batteries for house; all manuals; documentation for all improvements and repairs.
The interior living area of my unit was converted in the early 90's by the second owner using the GM motorhome floor plan that featured the side bathroom option with sleeping quarters in the rear (rear bed can be removed and the area converted into another dinette).  The third owner painted the unit in 1995.  I am the fourth owner and purchased it in 1996.
Updates by me: New side frame rails in 1998; new Duo-Therm Penguin low profile 13,500 BTU roof air installed in 1999; Michelin LT225/75R16 LRE XPS RIB tires installed in 2006 at 107K miles; new Bilstein shocks installed in 2006; new calipers, pads and stainless steel hoses installed in 2007 at 113,500 miles; new waste tank in 2008; 3.55 Final Drive in 2009; radiator in 2010; Dick Paterson rebuilt carb in 2013; new engine water pump in 2014; new smaller LP gas tank, new engine battery, new circuit board for Onan generator in 2015; new golf cart batteries in 2016.  Minor repairs maintained by me.
Major Repairs By:
Buskirk-Rush RV and Cinnabar Engineering in Sandusky, MI
Cooperative Motor Works in Orlando, FL
Alex Sirum GMC in Okeechobee, FL
Willing to include a 2000 Chevy Tracker — 2.0L in-line – 4 WD with tow bar and Brake Buddy at this price. Mileage on Tracker is at 139,150.
---
1977 Birchaven
MD | $20,000 | listed 11-15-16
Paul McKean | | 410-242-8854
23′ Birchaven. Garage stored near Baltimore, MD.  Good 455 engine, 115,350 miles, good condition. The coach was maintained by Ken Frey, and has many upgrades.  Galvanized frame by Dan Stuckey. Transmission, radiator, alternator, brakes, tires, batteries, and misc. other parts replaced at 112,000 miles +/-. Batteries maintained by Pulsetech equipment.  New elect. converter installed in 2014. Hot water heater replaced in 2016. Alcoa Al wheels, rooftop storage pod. original AC, microwave, built-in vacuum-cleaner. All maintenance and service records since new. Coach comes complete with sheets, towels, sleeping bags, flashlights, tools, etc. Also, several maintenance and service manuals, all "GMC Newsletters" from Fall 1982 to present, and all "GMC Motorhome Marketplace" magazines from Sept. 1992 to Oct. 2003.
---
1977 Eleganza II
AL | $24,000 | listed 11-25-2016
Kerry Pinkerton | | 256-679-4488
Excellent shape. Drive anywhere. MANY custom features. Rear full size bed 4″ longer than normal. Additional bed/couch in front with drawers/storage and electric hideaway table underneath. Side bath (wet bath) Really nice coach. Drive anywhere. Custom aluminum cabinets.  Most everything new/rebuilt including engine, trans, 1 ton front end, new tires, brakes,etc, etc. Appraised at over $60,000. Over 111 upgrades (see photos for lists).  Currently all electric (no stove or propane).  Storage where stove and propane tank was.  Propane and furnace can be reinstalled. Lots of folks know this coach.
---
NEW | 1977 Lake Placid
OH | $30,000 | 4-17-2017
Ray or Barb Gall | 419-304-2944 or 419-304-3053
Color: Shades of blue and grey. Engine: Olds 455 – Runs good.
Two low profile air conditioners. Roof mounted storage pod and hitch mounted storage pod. Many new items including brakes, tires, fuel tanks and interior items. You will not find a nicer coach, it is ready to travel. Located near Toledo, Ohio. Call or more information.
---
NEW LISTING – PRICE LOWERED! | 1977 Royale – 26 foot
OK | $18,000 price lowered 2-27-17 | $19,500 listed 2-8-2017
Joe Nimmo | 580-762-5029 | cell 580-763-2780
Mileage: 66,768. Engine: 403. New Michelin tires and aluminum wheels, two roof air conditioners, 600w Onan generator and storage pod on roof. Digital dash and remote mirrors. Stainless teel header and exhaust. All owner and service manuals. We are the second owners and have owned since 11-8-2001.
---
1978 Eleganza II
NY | $10,000 | listed 6-21-16
Suzanne (DelVecchio) Glenn | | 214-616-9792
Original w/ 112K Mi; Wet hot kit and bath; rear BR w/ full; Sofa and dinette convert to sleep many; lots storage; owned by mechanical engineer, George DelVecchio.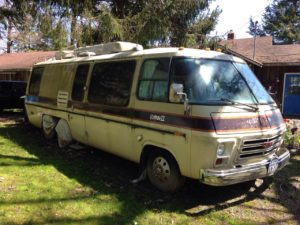 ---
PRICE LOWERED! | 1978 GMC Motorhome
RI | $39,999 | lowered 1-7-17 | $45,999 | listed 11-22-16
Joseph Carreiro | (401) 490-8717
Thanks for your interest in our 1978 GMC Motorhome and if you have any questions please contact me and I will try to help you as much as I can with the history and specifics regarding this 78 GMC Motorhome. The owner of our company, Mario Coletta, who passed away in July of this year purchased this motorhome between 1983 and 1985, he purchased it from Bob Tasca Sr. who formed Tasca Ford here in Rhode Island. Mario purchased the motorhome with somewhere around 6000 miles on it at the time and it now has 35,000 miles.
Both the exterior and interior of the motorhome has been completely revamped with the interior being taken down right to the studs and remodeled with a modern look and the exterior has had a complete refinishing with the same colors and a similar look as when original.
The engine of the motorhome was fully rebuilt in 2011 by Iden Corp GMC out of Woodbridge, VA, along with adding fuel injection, new exhaust and the installation of a disc brake system on the center axles changing them from drums. Also, the suspension air bag system was replaced. We still have the "repair bible" from Iden Corp GMC which explains all the work performed which can be sent to you in a PDF format.
The sale of this motorhome will also include all the books, manuals and "repair bible" that are in the photos. All systems in the motorhome are in working order, motorhome has always been garaged and kept clean inside and out. Please let me know what else you may need from us regarding this 1978 GMC Motorhome and thanks for your interest.
---
NEW! | 1978 Kingsley – 26′
IN | $30,000 or best offer | listed 4-14-2017
William Ezzell | | 574-370-3049
The following items are new within the past 24 months:
455 Oldsmobile engine and transmission just rebuilt by Alex Sirus with less that 5,500 miles.
Alcoa Wheels
Ramco Mirrors
KYB shock all around
Engine water pump
Double pulley on alternator
Refurbished interior (see photos)
Water tank
Water pump on house water tank
Toilet
Convection, microwave oven
Coram counter tops
GMC straight tract on rear wheels
Front wheel spacers for straight tract
6 new tires
Awing
Ragus aluminum folding door step
Macerator pump
Regular size bed (permanent)
Air-lift (remote) system to rear air bags
Progressive Dynamic 60 AMP with charge wizard
Domestic 2 way fridge
New engine battery
---
1978 Royale
CT | $17,000 | listed 11-10-16
Roderick White | | 860-434-2673
Very good condition, ready to travel. Has many extras including awnings. Call for more information.
---
1978 Royale
NC | $20,000 or very close offer! | listed 1-3-17
Peter Mullen| 910-457-6491 for more info. or any questions
Rear bath, sleeps 4, third owner, always garaged except when in use. All receipts on-hand since owned!!
Engine/Drivetrain:
403 Oldsmobile: 2,200 miles on FULL $5,800.00 rebuild, Edelbrock manifold w/Quadrajet Carb. built and flow-benched by Carolina Carburetors, Doug Thorley 3″ exhaust headers, cold air induction, Paterson Ign. wires. Transmission & differential fully rebuilt with brazed torque converter and shift kit 2,200 miles ago
Chassis:
Air bags in great shape, everything else on Chassis fine – no issues/rust, KYB shocks, McNeil instrument panel, front and rear battery shelves, rebuilt compressor,new rear brakes,recent front brakes,new brake lines, greaseable front hubs, Firestone tires in excellent shape,good windshields,two fantastic fans,13,000 BTU roof air, 6kw Onan generator with 130 hours – always serviced.
Body/Interior:
Original Imron exterior paint in fantastic shape,beds convert to full twin,new toilet,new convection microwave,recent fridge,30k btu furnace,new water pump,6 gallon water heater, antenna booster, new bathroom sink, air lifts for rear compartments, All screens in place with several extras, All shades work great, very good shape, both black & gray water holding tanks & dump valves are new, no problems, roof air A/C works great & recently serviced, coach A/C also works fine, All gauges, interior lights, gas heater, etc. work great.
Anyone can get in this and drive it anywhere.
---