GMC Motorhomes for Sale – Listed by Year and Model
---
This page viewed over 6,100 times a month!
A GMCMI Member Benefit: GMCMI members selling their GMC Motorhome can receive a free ad listing on the gmcmi.com website (plus up to 9 photos), quarterly magazine and announcement on the GMCMI Facebook page, Vintage GMC Motorhome facebook page and the gmc.net (forum). Simply send an email to with your ad content, contact information, location, price and up to 9 photos. For more information call Kim at 612-501-4600.

NEW Member Benefit | GMCMI Member Benefit: GMCMI members selling their GMC Motorhome can transfer the remainder of their GMCMI membership to the new owner! Simply inform GMCMI at and a new member packet will be sent to the new owners. Plus, the new owner can purchase the GMCMI Flashdrive for only $10! (including shipping)
Not a GMCMI Member: Simply click here to join GMCMI for $40 and receive all of the member benefits as well! Including free advertising on the website and magazine.
Click here to see GMC Motorhomes that have sold via this listing!
---
1973 Custom GMC Canyon Lands Handicap Design
OH | $27,900 | listed 5-31-17
Tom Hampton-Grandview Motorhome | | 937-537-1612
Rebuilt Final drive
Rebuilt Transmission
Frame is in good shape
Handles great
Runs strong
Paint good but not perfect
Sleeps 4
Dinette chair converts to handicap bed ( 8 way power seat )
Rear Flex Steel jackknife couch
Microwave
Glass cooktop
Norcold refrigerator
New Mac Dash
3 – 8 way power seats and more in vinyl
Handicap shower and toilet
Honda generator
Alcoa wheels
---
NEW! | 1975 GMC Eleganza II
QC | $20,000 USD | listed 11-7-17
Dave |  | 514-946-2848
Motorhome is located in Montreal, Canada. This blond bombshell gets loads of positive attention! 26 feet long. Sleeps up to 6 people. Front-wheel drive.  The gas engine (Toronado) and transmission are in great running condition. Had been lovingly placed in climate-controlled storage for 20 years. No rust. New battery. All tires are new. Comes with 2-inch thick original Owner's Manual. Professionally cleaned inside and out recently. Custom blinds, custom seat covers (upholstery is like new underneath), and custom mattress. Large storage pod on roof. Ready to bring fun, adventure, style, and great memories to a new family.
---
1975 Glenbrook – 26′
IN | $19,900 | listed 4-13-2017
Dan Funk | | 812-453-4988
Oldsmobile 455 Engine, 105,000 Miles on Chassis, Onan Generator, Engine is Up-To-Date and
Well- Maintained, Stored Inside
Many Updates and Upgrades Including:
• Aluminum Wheels, 2008
• Transmission Rebuilt, 2007
• All New 3" Exhaust Pipe, 2002
• Full Fuel Line Replacement, 2004
• Fresh and Waste Tanks, 2002
• Airbags, 2001
• Repainted, 2005
• Interior Redecoration (Headliner, Carpet, Curtains, Seat Covering, Counter Tops, and Paneling), 2001-02
• Cruise Control, 2002
• Norcold Two Way Refrigerator, 2014
• New Furnace, 2017
• And many more, too numerous to list
More pictures available on request.
---
1975 Glenbrook & 1978 VW Karman Convertible – Perfect Pair!
WA | $22,500 GMC and $14,000 VW | listed 7-10-2017
Elaine | 509-375-3432
LIGHTLY USED, EXCELLENT CONDITION
GMC  Glenbrook Motorhome – asking $22,500
Custom exterior paint to match the original "ivory" color of "tow car."
New dash cover, two new leather/like driver and passenger seats, plus custom cabinet by driver's seat
Wood underflooring replaced + new vinyl + area carpeting
Dash curtain plus curtain to divide coach
Day/night  blinds  w. cornices matching new couch
2 chairs plus dropleaf wood table
New furnace, new refrigerator/freezer
New sink + faucet and counter top
4 burner stove with conv. oven
All new headliner plus new custom ceiling fans
New mattress and quilted bed spread
Bathroom has shower area plus new toilet
New macerater pump, 2 new side mirrors
2 new 6-volt batteries and towing hitch
All new custom wheels and tires
All owner's manuals, etc.
Engine has always been cared for by professional mechanics
Stored under heavy-duty cover
1978  Classic Karmann Convertible – asking $14,000
Low mileage – 70,910 miles
Fuel Injection
Original paint, interior dash, etc.
Stored in garage
Both vehicles have been lovingly cared for and can be sold separately. Located in the Tri-Cities, Washington state.
---
1976 Birchaven – 23′
OK | $24,000 OBO | listed 7-21-2017
Monte Jestes| 405-747-4634
Rear Full Bath
Ragusa Step,
Fantastic Vents, including that really special one in the bath,
Rear fender "T" Skirts
16″ Alcoa Aluminium wheels, (7)
Billet Hub Caps
Pretty New tires
stored inside,
Rebuilt  2016  less than 1000 miles: Engine, Transmission, 3:21 final drive (Posi Track)
Dave Lenzi front end parts
Dick Patterson's Springfield Ignition, Wires, Distributer and Rebuilt Carb
Jeep Snorkel cold air intake
Blocked Intake Manifold
Stainless Headers 3" – Stainless dual muffler front to rear
New stainless break lines (all)
4 Bag System
All 3 axles have disc brakes: 88mm upfront, Eldorado with Parking brake on rear axle
5 year old heater
New formica in kitchen
Leather front seats
New upholstery in dinette
Flip Flop couch/bed
APC
Electric transmission cooler – Stainless steel hoses
macerator
Microwave
Newer Refrig
All new airlines and Brass fittings
Rebuilt Air valves upfront
Dual belt pulley
Xantrex 3 Stage Charger converter
---
1976 Glenbrook
MN  | $27,000 | listed 8-14-17
Jack Scholes |  | 952-938-8988
93,000 miles. This coach is road worthy. We have spent almost two years having professions make repair and improvements. This spring, the coach was reviewed by a professional for all kinds of little things to get all systems as perfect as possible
Exterior
Original Imron Aviation paint (nearly perfect)
Air Horns
Flame Thrower driving lights
Roof Air – High efficiency, new 2004
Storage Pod and ladder
Rear suspension air bag system inspected – no leaks
Eight new shock absorbers installed
Entry step
Rear wheel skirts
Complete awning
Interior
New headliner 2004
All shades and curtains in good and operating condition
Custom Naugahyde cover for entire carpet when new
Refrigerator -3 way, new 2001
Microwave Oven
Three burner propane range
Water Heater – stainless steel with engine preheat– new 2002
Complete bath (sink, shower, stool)
Wired for TV center and rear compartments
CB Radio
AM/FM/tape deck
Power roof vents
Cab A/C completely rebuilt 2015
Curtain installed to isolate driving compartment for two person driving
Mechanical
Oldsmobile 455ci V8 engine, external cooler
Hydramatic transmission, checked, flushed, new fluid
New exhaust manifold gaskets and connections to new muffler.
New tires 91338 miles
New Batteries
Battery and electrical wiring and cables and replaced as advisable.
Onan generator (6 kw, 115V)
Ignition system all replaced 92,289 miles
Front suspension all overhauled, aligned, and modernized with new linkages and ball joints
Front end and rear end aligned and put on same track with wheel spacers
New power steering pump and steering pulley
New fan clutch
12 Volt converter/charger
---
NEW – UPDATE POSTED 12-21-17! | 1976 Palm Beach
KY | Accepting offers – Need to sell ASAP! | listed 12-1-17
Beth | beth_parodi@yahoo.com
UPDATE – Thank you for inquiries to-date! We're continuing to show and take offers next week, with plan to sell to best offer by year-end. Corrected mileage: 104,750 
Need to sell father's GMC ASAP! 110,000 miles, located in Louisville, KY.
Fixer-upper. VIN/Details in attached file. Interior is original. Family are unsure of any current updates.
---
NEW! | 1976 Palm Beach
OH | $29,900 | listed 11-7-17
Michael Roy |
455 Engine 128,XXX Miles | Onan Generator 1066 hours
In 2003, the coach was taken to Cinnabar for a complete overhaul. The following work was done:
Complete Drivetrain Rebuild (at 100,000 miles)
New appliances (refrigerator, convection oven, sink)
New carpet and upholstery
New headliner
New leather on driver and co-pilot seats
New Rear Roof A/C Unit
Refurbished mid roof A/C unit. (Both work with no flaws)
Brand new two shade blinds.
All new seals around all windows including windshield and door.
New florescent lights.
New speakers and wiring for cable
Leather Front Seats and new steering wheel
The coach has the following features:
Duel Battery Isolator with trickle charge
Original Paint Job very good condition (Heated Garage stored)
7 Bridgestone tires on 7 Alcoa wheels. Low miles
Onan Generator (Inside cabin start)
Rear ladder and large roof pod
Bilstein shocks
New rear airbag
Owned since '82. One previous owner. Have all service records since purchase. This coach has always been very well taken care of!
---
1976 Glenbrook
NY | $14,999 will entertain all offers | listed 6-21-2016
Suzanne (DelVecchio) Glenn | | 214-616-9792
About 54K mi; owned by former GMCMI board member, George DelVecchio. Interior description: Dinette with Captain Chairs in living space; Kitchen with stove, oven, refrig/freezer, sink; Rear master with Full sized bed. Wet bath with commode, shower, sink. Lots of storage throughout. This motorhome attended several of the rallies from 2009 to 2013. It's exterior is white with black/Maroon accents – repainted by prior owner. Has on board generator, heat and A/C, house batteries separate from engine battery. Switch installed to interchange batteries (learned at one of the rallies.) If you met and got to know George, you would recall his love of cars, planes and GMC coaches! Please help George's bride of 60 years, Joan, find a new owner for this lovely motorhome!
---
1976 Palm Beach
MI | $8,000 OBO | listed 7-10-2017
Rolly Bloomfield | 480-357-8699
Front Wheel Drive, Onan Generator, 454/455 Engine, 114,871 miles, Rebuilt and upgraded final drive transmission at 85,000 miles, Roof air, Not driven much in last 10 years, original manual and updated information from GMC International. Located in Mesa, AZ.
---
NEW! | 1977 Eleganza II
LA | $24,850 | listed 11-7-17
Pat Gatlin | | 985-385-1498
This coach was my husbands dream project. He spent over $ 40,000 bringing it to this level. The exterior of the coach is original. Improvements include–new tires and wheels, new Cummings Onan generator, new stainless steel brakes lines, new airbags for leveling ,new back-up camera, new electronic distributor for spark plugs, new plugs and wires, new four barrel carburetor, new front drive axel and cv joints, new air conditioner, flat screen tv, new stereo system, soundproofing on floor, walls, and ceiling, fire proofing ,new headliner, new wood flooring and carpet in cab, new queen bed in back, sofa converts to 2 bunk beds, new refrigerator, new Mac dashboard, new day/ night shades
I also have the original table and bench seats that make a bed.
---
NEW! | 1977 Eleganza II
OR | $29,500 | listed 11-8-17
Elan Davis | 503-231-1940
This has been a local area motorhome since new. Owned for the past 15 years by the third qwner who is an avid car collector. This motorhome is completely original and in amazing condition! Having always been garage kept, it is as-new inside and out as they come!
Upholstery is fantastic! Mechanically ready for vacation and with only 65,000 miles there is lots of memories left to be had! Big block gas powered 455ci V8 engine with an automatic transmission, newer chrome wheels with good tires only a few years old, Flatscreen TV was added. Tow package and air conditioning that works very well! Certain this motorhome's condition will not disappoint, one of the cleanest we've seen!
We are selling this vehicle for a life-long friend. It is not at our location but is available to be viewed by serious buyers by appointment. We are located in Portland Oregon and the GMC is stored indoors in Vancouver, Washington, just 30 Minutes from us.
---
1977 Lake Placid
OH | $30,000 | 4-17-2017
Ray or Barb Gall | 419-304-2944 or 419-304-3053
Color: Shades of blue and grey. Engine: Olds 455 – Runs good.
Two low profile air conditioners. Roof mounted storage pod and hitch mounted storage pod. Many new items including brakes, tires, fuel tanks and interior items. You will not find a nicer coach, it is ready to travel. Located near Toledo, Ohio. Call or more information.
---
NEW! | 1977 Palm Beach and 2001 Saturn Tow Car with Eagle Hitch
FL | Asking $18,900 | listed 1-11-18
Pete Marchiando | | 850-729-1425
Total frame-off restoration completed in 2005. Less than 10K miles after restoration and ~5K on a rebuilt 455 engine. Coach is located in Niceville, FL and has been stored in a heated and air-conditioned garage at our home. Only reason for selling is that we have moved to Alaska. Asking $18,900 for the coach and $1,500 for a 2001 Saturn tow car and Eagle hitch. Saturn has new tires and A/C was replaced in 2017. Click here for additional pictures and list of updates.
---
1977 Royale
BC | $22,900 USD | listed 5-16-17
Doug Brown | | 250-307-0661
Dry side bath
Rear twin beds with new custom mattresses
6000W Onan generator with 301 hours
Over 20 years of maintenance records
97,500 miles
---
1977 Royale
CO | $27,500 | listed 10-18-2017
Julene Lind | located in Minnesota (coach in Glenwood Springs, Colorado)
julenelind@gmail.com | 612-242-8029
I am the fourth owner. The previous owner had this wonderful GMC for 16 years. It has always been garaged and is in excellent condition with 150,358 total miles and only 18,334 miles on the Chevy 454 big block motor. This Royale by Coachman has rear twin beds, a side dry bath, solid walnut cabinets, roof air conditioning and 6kw Onan generator. I am asking $27,500 for the coach and includes manuals, many spare parts, kitchen and table items, and TV.
I am a very motivated seller. VIN – TZE367V102032
Specific improvements beyond the Chevy 454 are the following:
16 inch Alcoa wheels
Storage Pod on roof
Flexsteel front seats
Roof air vent covers
Electric emergency vacuum pump
Rebuilt transmission
External fan driven transmission cooler
External engine oil cooler
Correct Track on front wheels
Rear front wheel disk breaks
Front knuckles and front suspension bushings replaced
Drive shafts replaced with 454 modifications
In tank  electric fuel pumps
Ouad air bag suspension system
Engine compartment fire control system
Engine compartment sound and heat blanket
Radiator core replaced
External air intake system for engine
Macerator for gray and black water tanks
Water heater replaced
Tinted Windows
Heat resistant paint on fuel tanks.
Roof mounted solar panel for house battery
Updated carpet and upholstery
New power brake vacuum pump
New furnace
New starter motor
New sink faucet
New propane master valve
---
NEW! | 1978 Birchaven – 23′
IL | $28,950 | listed 2-3-2018
Herb Kuhn | | 815-341-3746
403 Olds engine with only 48,787 actual miles, rebuilt transmission with 3.50:1 Power Drive. Appraised at $46,000.
Upgrades from 2013 to 2017:
7 Michelin tires in 2014
Backup Camera
Ragusa Trans Pan
Sully type air bags
Bogie grease fittings
Radiator Protector
Cockpit Window Screens
Ragusa Cockpit Wind Wings
Trailer Hitch Roller
All 3 Batteries in 2014
Braided Oil Cooler Hoses, 2013
Hoses and Belts, 2013
Lenzi Front Bearings and Knuckles, 2016
Rear Bearings Serviced
Stainless Transmission Cooling Lines
Fan Clutch
Distributor Rotor and Cap
Spark Plugs
24″ TV/DVD w inside and outside mounting brackets
Fresh Water Pump
Fuel Fill Hosses
Brake Pads
Lighted Entry Door Handle
Alternator Protection Cable
Ragusa Lawn Chair Ladder Brackets
Fuel Pump
Upgrades applied from 1994 to 2013 by the previous owner:
Rectangular Headlights
Ragusa Entry Step
Ragusa Entrance Handle
Ragusa Front License Plate Holder / Bumper Step
Ragusa Side Mirrors
Kenwood 10 CD Changer and Sony Speakers
Imron Two Tone Exterior Paint
Rebuilt Jasper Transmission
3.50:1 Tranmission Power Drive Conversion
A&E Awnings on Both Sides
Dashboard Cover
Complete New Interior
Roof A/C
Battery Shut-offs
2 way (110 / Propane) Refrigerator
Day/Night Pleated Blinds
Fender Flares
Jardine Headers and 3″ Exhaust
---
1978 Eleganza
MI | $25,000 | listed 8-18-17
Greg Smith | | 313-886-8546
Mechanically sound 26 foot GMC with 40,000 miles on the engine and 120,000 miles on the coach. I took my family of 7 on many memorable highway adventures in this coach, mostly in the late 90's (twice to California from Michigan among many other trips).  The coach drives like a dream, please read over the upgrades and if you have any questions please contact me.
Sleeps 6, seats 13 for Tailgate Parties
Original Interior(needs front headliner and Roof Vent), Original Exterior Color
Current owner since 1995
Maintained by Cinnabar Engineering since 1994
Convenience Upgrades: Large Rooftop Pod, 2 Rooftop A/C Units, Two "Fan-Tastic" Roof Vents, Top Mounted Remote Control Spot/Flood Light, Rear Ladder, Front Bumper Fold-Down Step, Screen Door with Fold-up Step at Entrance, Side Window Fresh Air Vents for Driver and Copilot, Caspro Quick Steering (Plus Original Steering box), Full coach dust
Safety Upgrades: Caspro Disc Brakes on Mid-Axle (Plus Original Drum Brakes), Auxiliary Vacuum Pump for Brakes, Caspro Positive Shift Kit, Alcoa Wheels (7), Bilstein Shocks, Roof Mounted Air Horns
455 Jasper Engine with 3.42 Final Drive (Plus Original 3.07 Final Drive, Complete
Headers (thermal coated) into a 3 inch exhaust
Driver adjustable ignition timing with knock sensor
Generac NP66G 6600 Watt Generator (Model 096000-3, S/N 3104828) ​
---
1978 Eleganza II
NY | $10,000 | listed 6-21-16
Suzanne (DelVecchio) Glenn | | 214-616-9792
Original w/ 112K Mi; Wet hot kit and bath; rear BR w/ full; Sofa and dinette convert to sleep many; lots storage; owned by mechanical engineer, George DelVecchio.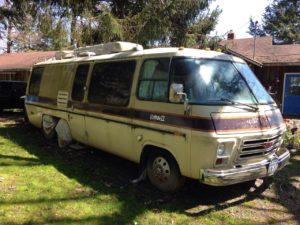 ---
1978 Kingsley – 26′
IN | $30,000 or best offer | listed 4-14-2017
William Ezzell | | 574-370-3049
The following items are new within the past 24 months:
455 Oldsmobile engine and transmission just rebuilt by Alex Sirus with less that 5,500 miles.
Alcoa Wheels
Ramco Mirrors
KYB shock all around
Engine water pump
Double pulley on alternator
Refurbished interior (see photos)
Water tank
Water pump on house water tank
Toilet
Convection, microwave oven
Coram counter tops
GMC straight tract on rear wheels
Front wheel spacers for straight tract
6 new tires
Awing
Ragus aluminum folding door step
Macerator pump
Regular size bed (permanent)
Air-lift (remote) system to rear air bags
Progressive Dynamic 60 AMP with charge wizard
Domestic 2 way fridge
New engine battery
---
1978 Palm Beach
GA | $69,950 | listed 10-6-17
| 678-468-2962
1978 GMC 26′ Motorhome – This coach has been totally renovated and upgraded to the finest quality. It has only been used once since the renovation was completed in 2015 and has been garage-kept since. My father had this coach restored and planned to travel the US but he got ill shortly after the completion and never got to fully enjoy his year-long restoration efforts. The sale price is less than ½ of the renovation costs so this is a great bargain.
MECHANICAL FEATURES: 455 motor rebuilt, transmission rebuilt, Diff gear change to 3.55, rear suspension upgrade "Quad Bag", Michelin E rate tires, aluminum American Eagle rims, Optima battery set, Honda EV6010 generator (6k water cooled), KYB shocks, complete exhaust system with Thorley headers, fuel system upgrade (ethanol fuel), hitch thru bumper and harness, new 14fin radiator.
EXTERIOR FEATURES: New 3 color exterior paint job, tail light kit upgrade, customized rear storage box, Zip Dee "New Century" electric awning, electric mirror set, wiper arm upgrade set, new grill, LED top/side clearance light set, rebuilt side window frames, aluminum step.
INTERIOR FEATURES: Custom "Big Daddy" dash kit, custom convertible leather sofa, custom leather driver/pass seats, custom leather swivel seat, computer table (solid surface top), custom solid wood cabinets and tables, Magic Chef convection/microwave oven, custom dishwasher, 2 door stainless fridge, washer/dryer combo, custom blind/valance set, flat screen TV (recessed in roof), custom wall finish, custom solid wood bed surround, textured wood plank flooring, 2 15000 BTU Roof AC with heat, 2 max roof vent fans.
---
1978 Royale
CT | $17,000 | listed 11-10-16
Roderick White | | 860-434-2673
Very good condition, ready to travel. Has many extras including awnings. Call for more information.
---
NEW! | 1978 Royale
PA | $26,000 | listed 11-7-17
Frances Ekl | 724-864-1233
Joe Ekl's coach, the "Key Man". Here is a list of upgrades and features:
newly rebuilt engine 403 (100 miles)
370 final drive
electronic air conditioning and heating in dash (Joe's design)
newer style GMC pickup gauges in dash
Thorley headers
auxillary f/vacuum brake
electric wipers – vacuum power
16 in wheels – new hub caps
4 bag rear suspension
macerator
2 roof air conditions
roof pod
great paint job
snap-on privacy window covers
awning
sleeps six
rear bath with tub and shower
new gas/electric refrigerator
double bowl sink
microwave
3 burner stove
nice walnut cubboards
built in blender
all new blinds
vacuum system
---