GMC Motorhomes for Sale – Listed by Year and Model
---
This page is viewed over 3,000 times a month!
A GMCMI Member Benefit: GMCMI members selling their GMC Motorhome can receive a free ad listing on the gmcmi.com website (plus up to 9 photos), quarterly magazine and announcement on the GMCMI Facebook page. Click here to download a printable copy of the GMC Motorhomes Classified Advertisement form for the magazine in Adobe PDF format. Please note if you wish to list more information that what is allowed in the magazine, please do so on separate sheet of paper or via email. For more information email .

NEW Member Benefit | GMCMI Member Benefit: GMCMI members selling their GMC Motorhome can transfer the remainder of their GMCMI membership to the new owner! Simply inform GMCMI at and a new member packet will be sent to the new owners. Plus, the new owner can purchase the GMCMI Flashdrive for only $10! (including shipping)
Not a GMCMI Member: Simply click here to join GMCMI for $30 and receive all of the member benefits as well! Including free advertising on the website and magazine.
Click here to see GMC Motorhomes that have sold via this listing!
---
---
1973 Custom
NJ | $25,000 | listed prior to 3-5-2013
Bryan Strickland | 609-927-2210
Too many upgrades made in past 10 years to list. Over $40,000 invested. Photos and detailed list of upgrades available upon request.
---
1973 Painted Desert
OR | $10,500 | listed 11-11-2015
Jim Stassen |   | 541-490-3306
85,000 miles. This has been a labor of love. New transmission, new engine, new brakes and brake lines. Tires in good condition with steel tubeless wheels. Interior has been all redone. New headliner, hardwood floors, beautiful leather seats and new memory foam mattress. Gas hot water heater and gas/electric refrigerator is also new. Too many upgrades to list. Exterior paint is original and needs repainting along with a little TLC. For the GMC followers this has a serial number 89. TZE063V100089
---
NEW! | 1974 Custom 26′ GMC Motorhome
AB | $20,000 Cdn | listed 7-14-16
Richard Lyne |  | 780-466-7307
Ready for the road. Only 30,000 miles on factory rebuilt 455 Oldsmobile engine and transmission. Engine serviced June 2016 plus all new gaskets. New tires, Alcoa Aluminum wheels, new air bags. Awning, roof top storage pod, ladder, 3-way fridge (12 volt, 110 volt & propane), 4 burner stove, oven and microwave, built-in vacuum, propane furnace, A/C, hot water heater, 40 gallon water tank, 6 kilowatt Onan generator. sleeps 3 – double plus 3/4 single. Motorhome located in Edmonton, Alberta.
---
1975 Avion
MI | $48,000 OBO | listed 4-29-16
Ted Kuderko | | 517-202-0306
26' GMCwith 14,000 miles on NOS 455 V8 engine. Completely redone interior in leather with new carpet, new furnace, new refrigerator and new compressors. TV's w/ satellite system, dry shower, Alcoa wheels and many more items. Has split beds with memory foam mattresses. Stored inside heated garage. Reconditioned by Cinnabar Sandusky.
---
NEW! | 1975 Palmbeach
MO | $16,000 | listed 5-12-2016
Good Condition – Many Mods – Route 55 Theme.
Bobby Palmer |  | 816-373-4443
---
NEW! | 1976 Eleganza
IL | $19,000 | listed 6-10-16
Steve Bonfoey | 309 339 2843 | Bonfoeys@sbcglobal.net
Clasco Coach Conversion with Updates, Twin Beds and Custom Paint. Plus these features:

Jasper Engine as designed by Jim Bounds 2008
Roller Tappets
Jim Bounds Cam
Dick Patterson Carburetor
Dick Patterson Tuned Distributor
Stainless steel Thorley exhaust headers
Stainless steel 3 inch exhaust pipes
Stainless steel mufflers
Dave Lenzi Steering Knuckles with Grease fittings
Aluminum Radiator
Manny Trevo Transmission
Ragusa transmission oil pan
3.70 Final Drive
New Quad-Bag suspension system 2012
Air Bag shutoffs and Schrader Valves
Fuel tank Exhaust Heat Shields
Gas tanks cleaned, painted white to reduce pavement reflected heat
Radiator guard
Separate transmission oil cooler
Oil Dip Stick Extension
Oil filler tube extension
Stainless steel oil cooler lines
Alternator protection
Electric Choke
Stainless Steel fresh water tank
Stainless Steel water heater
Bronze heating element in the water heater
Entry door assist handleSliding Cockpit Window Screens
Birch Screen door
Ragusa Entry Step
Ragusa Front Bumper Steps
Three Fantastic Vents – one in the wet bath
Hot water tank bypass valve for winterizing
Fresh water pump anti-freeze entry valve for winterizing
Custom front end lift frame for towing
Six new tires  2013-2014
Seven Alcoa aluminum wheels
Six Wheel Disc Brakes
Braking system backup vacuum pump
Bogie grease fitting adaptors
KYB Shocks
Backup alarm
New body to frame cushion rubbers
Roof mounted backup floodlight
Tail light modification
Square headlight modification
Wind wings, driver and passenger side windows
Additional cabinets over drivrs side couch
Custom China Cabinet
Gun Cabinet/Fishing Rod Cabinet
Custom fiber glass  rear bumper tool box
Leather pilot / copilot seats
Secondary engine air conditioner condensor in living area
Coleman Mach Air conditioner with heat strip option
New Norcold 3 way refrigerator 2005
New Thetford stool 2005
Fresh water pump on-off switch at entrance and another in bathroom
Satellite dish
Television dish
Co-phased dual CB antenna
Instrument panel from Custom Instrument Panels, Carson, CA.
Custom spare wheel cover
Color Coordinated Awnings – both sides of coach
Heavy duty trailer hitch
Macerator pump
Auxiliary air compressor and tank
Tug boat air horn
Train whistle
Roof top sun visor for driver and co-pilot
Front windshield cover
Parquet wood floor
Carpet
New power converter 2013
Electro-Level II
---
NEW! | 1976 Glenbrook
NY | $14,999 will entertain all offers | listed 6-21-2016
Suzanne (DelVecchio) Glenn | | 214-616-9792
About 54K mi; owned by former GMCMI board member, George DelVecchio. Interior description: Dinette with Captain Chairs in living space; Kitchen with stove, oven, refrig/freezer, sink; Rear master with Full sized bed. Wet bath with commode, shower, sink. Lots of storage throughout. This motorhome attended several of the rallies from 2009 to 2013. It's exterior is white with black/Maroon accents – repainted by prior owner. Has on board generator, heat and A/C, house batteries separate from engine battery. Switch installed to interchange batteries (learned at one of the rallies.) If you met and got to know George, you would recall his love of cars, planes and GMC coaches! Please help George's bride of 60 years, Joan, find a new owner for this lovely motorhome!
---
1976 Palmbeach
MI | $8,000 | listed 10-23-2015
Dale Frahm | 989-284-2853
Repainted years ago, dual airs that work, 107,400 miles on coach. Runs good but needs some TLC. Everything works. Alcoa wheels.
---
1976 Palmbeach
MI | $19,500 | listed 2-22-2015
Current mileage: 82,847. Refurbished by Buskirk-Rush at 79,153 miles. New tires, paint, upholstery, furnace, roof ac, Flexsteel sofa, Fantastic Fan, custom mattress. Generator.
---
1976 GMC Transmode Conversion
MI | $23,000 | 7-19-16
Tom Dixon| | 586-731-9037
Have owned it since 1996. More info upon request. All manuals, documentation for all improvements & repairs. Major repairs completed by the following companies: Buskirk-Rush RV and Cinnabar Engineering Cooperative Motor Works and Alex Sirum. PLUS….Willing to add a 2000 Chevy Tracker with tow bar and Brake Buddy at this price.
---
1977 Kingsley
NE | $16,000 or best offer | listed 1-27-2016
Don Denesia | 308-872-3153 or 308-870-1825
Classic, fully restored, 26 ft. 455. cu. engine-122,000 mi, repainted-always store inside. AC, TV, generator, 16″ Alco wheels. Engine overhauled. New refrigerator, carpet, upholstery and coach heater. Ready to go!
---
1977 Kingsley
PA | $7,000 | listed 11-11-2015
Arlene Wasson |
80,000 miles. New battery and alternator. Needs a lovign home and some TLC. Expecting to be used frequently next year. Original interior.
---
Late 1977 Palm Beach
IN | $28,300 | listed 1-25-2016
Wes Steiner | wsteiner468@gmail.com | 574-535-3943
Mileage 118,500 Tornado 403 engine, 8,500 on Ken Frey rebuilt, 6 kw gen, new airbags, stainless steel brake lines, Alcoa wheels, 3.70 final drive, receiver hitch, shocks, converter, exhaust system, newer roof ACs, storage pod, Ragusa items, 2 Zip Dee Awnings, fiberglass/chrome spare tire cover kit, interior updated & exterior repainted, many updates, excellent records, with manuals.
---
1977 Royale
BC, Canada | $22,900 USD | listed 3-22-2016
Doug Brown | | 250-307-0661
Dry side bath. Rear twin beds with new custom mattresses. 6000W Onan generator with 301 hours. Over 20 years of maintenance records. 97,500 miles
---
NEW! | 1978 Eleganza II
NY | $10,000 | listed 6-21-16
Suzanne (DelVecchio) Glenn | | 214-616-9792
Original w/ 112K Mi; Wet hot kit and bath; rear BR w/ full; Sofa and dinette convert to sleep many; lots storage; owned by mechanical engineer, George DelVecchio.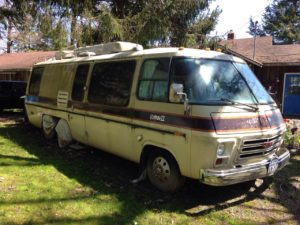 ---
1978 Royale
IN | $42,500 | listed 11-1-2015
Don Brown |
Up Grades and Modifications
Hayden transmission cooler-transmission temperature gauge at dash.
Bilstein shocks all around.
Installed Perma-Lux fog lights.
Sky Dome fan and skylight in bath.
Buzzer to prevent leaving lights on when key is out of switch.
Mini-blinds at all windows.
Eddie-Bauer driver and passenger seats with air lumbar adjustments.
Chromed vents back of front wheels to vent heat from engine compartment.
Installed 2 back up lights.
Added 2 castor wheels at rear to prevent tail end dragging at uneven road conditions.
Installed water filter system.
Removed U-shaped lounge in rear of coach. Holder Mattress Co. made twin mattresses to fit.
Installed Toaster Oven under overhead kitchen cabinet.
Added an electric fuel pump and lighted switch at dash to show when on.
Up Grade to Weld Aluminum Wheels and Michelin XPS 9.50 X 6.75 tires.
Installed By-Pass valve to improve winterizing motor home.
Installed 2 new Mirrors, CB antenna and turn signal lights for safety.
Two blue lights in dash to show turn signals on. (reminder)
Installed two patio lights located under front and rear body. (safety and convenience)
Change switches at entrance to small rocker type.
Design, built, and installed Entrance Step. (Light at step for safety.)
Added an OLDS steering wheel for better viewing of dash gauge.
Replaced tail lights with "88" GMC Van tail lights.
Designed and fabricated lift bar at front frame to serve as tow bar if needed and as air scoop.
Installed UPS type brush back of rear wheels to stop rocks from damaging tow car.
Installed tube to store 20 ft. Sewer Hose.
Rear brake upgrade Turned Drums installed 2 ¾ " brake shoes all.  1 1/8" cylinder on trailing  wheels, & 1 3/16" cylinder on leading wheels.
Installed 1 5/16" Master Cylinder and switched to DOT 5 brake fluid. ( higher boiling point)
Installed Schrader valves and shut offs at each air bag. ( could put air in bag if required)
Put low pressure switch at each air bag and red light at dash. Pressure below 60# light is on.
Modified Parking Brake with four pulleys to make cables pull freely and balance pull to rear wheels.
Added Auxiliary Air Pressure System to air tires or air bags in an emergency.
Changed handles to lockable latches on exterior doors.
Installed Macerator at discharge of gray and black water holding tanks.
Installed new window locks.
Installed  "67" Toro Variable Pitch Transmission modified by Redinbo Transmission and Torque convertor modified by PRO TRAN. Logansport , IN
Control for Variable Pitch located on dash.
Assist Handle at entrance with switchable light.
Rectangular Halogen Headlights with Lexan protective shields
Installed flares front and rear and Frenched them in. Gives coach a modern look.
Installed cornering lights and relays. Come on automatic when turn signal is operated.
Installed 80MM caliper front disc brake.
Installed Docking lights.
Installed Infinity Stereo Speakers in living area.
Installed Four Rails System on boogy arms. (Chic Abbots design)
Installed vacuum pump to maintain vacuum to vacuum booster.
Installed Shields at end of air bags to protect from rocks.
Install Air Bag Lifts (Don Roberts design)
Install Window Film all windows.
Install 3 SOLAR Panels and controls. (excellent for dry camping)
Todd Engineering up graded convertor and added 13.1 volt control, also shows solar output.
Installed automatic switching device. Shore power to generator.
New Whirlpool Duo microwave.
Installed 2 Halogen lights at overhead kitchen cabinets and dimmer control.
REPAINT MOTOR HOME:  4 colors using Base Coat, Clear Coat ( GLASURIT Paint )
Installed  5CFM compressor ( left front ) removed Dana and tied two systems together.
Up Grade to Stainless Steel mufflers and 3"exhaust pipes.
Made pull out tray for two 6 volt golf cart batteries moved size 31 to front. ( easy service)
Installed Dana compressor & air tank for dedicated tow car braking system. M&G ENG.
Remove Flushed repaired AC condenser-new hoses drier etc. To convert to R134.
New Dometic Royale Refrigerator (2) way.  New Dometic roof air conditioner.
Replaced 4 burner gas stove with 2 burner recessed stove.
New dash and gages. Painted dash and added cover.
Install new alternator and battery isolator designed for computer controlled engines.
Installed Stat-Power 1000W Inverter.
New water heater ( gas-electric)
Remodeled interior: New carpet, head liner, blinds, Leather driver and passenger seats, hardwood floors living area.
Restyled sofa using Leather, designed Corian dinnette table to use for dinning or store under
seat when using the sofa.
Corian Kitchen cabinet top. Restyled bath using Corian cabinet top and floor.  Formica on
the walls and cabinet doors. Mirrors on upper cabinet doors.
New final drive, 3.70. 1  Have used 3.07, 3.21 , 3.46 and mileage improves as numbers go up.
Added Precission Sensor Altitude, Temperature, and Compass to dash.
Two NEW Windshields.
Installed ALL NEW rubber between body and frame. (less Noise)
New Chrome front and rear bumpers.
Installed 2 Hydro-vac brake boosters. ( improved brakes and less pedal presser)
Install Special Built engine by Cuppy. 9.8-1 compression Edelbrock Aluminum Heads.
Has Electromotive Multi Port fuel Injection, Distributor less Ignition. Using Amsoil and putting 6,000 miles between oil changes, using no oil.
Installed new FLO-JET water pump. Better water pressure.
New Michelins tires rear at 21,000 miles. New front tires at 39,900 miles.
Installed electronic ignition on Onan generator.
In Puts front and rear for coaxial cable to TV's bedroom and living areas.
Many other Upgrades and Modifications.
---
1978 Royale
WA | $22,500 | listed 7-21-2015
Rear Twin Beds, Side Bath, TZE368V100986. Most everything upgraded or replaced. Custom Paint.  New Dash.1999 Chevy Tracker tow also available.
Don Gibson | | 360-509-3284
---