GMC Motorhomes for Sale – Listed by Year and Model
---
This page viewed over 4,600 times a month!
A GMCMI Member Benefit: GMCMI members selling their GMC Motorhome can receive a free ad listing on the gmcmi.com website (plus up to 9 photos), quarterly magazine and announcement on the GMCMI Facebook page, Vintage GMC Motorhome facebook page and the gmc.net (forum). Simply send an email to with your ad content, contact information, location, price and up to 9 photos. For more information call Kim at 612-501-4600.

NEW Member Benefit | GMCMI Member Benefit: GMCMI members selling their GMC Motorhome can transfer the remainder of their GMCMI membership to the new owner! Simply inform GMCMI at and a new member packet will be sent to the new owners. Plus, the new owner can purchase the GMCMI Flashdrive for only $10! (including shipping)
Not a GMCMI Member: Simply click here to join GMCMI for $40 and receive all of the member benefits as well! Including free advertising on the website and magazine.
Click here to see GMC Motorhomes that have sold via this listing!
---
1973 Canyonland
NJ | $6,500 | listed 1-3-17
Rich DiNucci | | Cell: 856-889-1135 | Hm: 856-629-3518
Original condition – 2 owners, 61,512 miles, owner's manual, parts book, complete service manual and service records, original paint, 455 engine, electronic ignition, 4K watt Onan generator, rebuilt radiator, new master brake cylinder, new break cable, all wheel bearings replaced, new Dana compressor, new hitch, newer Dometic 2 way refrigerator 10 years old only used once, awning, CB, Blaupunkt radio, new carpet. All reasonable offers considered.
Please contact me for more photos and updated info if needed.
---
1973 Custom GMC Canyon Lands Handicap Design
OH | $27,900 | listed 5-31-17
Tom Hampton-Grandview Motorhome | | 937-537-1612
Rebuilt Final drive
Rebuilt Transmission
Frame is in good shape
Handles great
Runs strong
Paint good but not perfect
Sleeps 4
Dinette chair converts to handicap bed ( 8 way power seat )
Rear Flex Steel jackknife couch
Microwave
Glass cooktop
Norcold refrigerator
New Mac Dash
3 – 8 way power seats and more in vinyl
Handicap shower and toilet
Honda generator
Alcoa wheels
---
---
1975 Glenbrook – 26′
IN | $19,900 | listed 4-13-2017
Dan Funk | | 812-453-4988
Oldsmobile 455 Engine, 105,000 Miles on Chassis, Onan Generator, Engine is Up-To-Date and
Well- Maintained, Stored Inside
Many Updates and Upgrades Including:
• Aluminum Wheels, 2008
• Transmission Rebuilt, 2007
• All New 3" Exhaust Pipe, 2002
• Full Fuel Line Replacement, 2004
• Fresh and Waste Tanks, 2002
• Airbags, 2001
• Repainted, 2005
• Interior Redecoration (Headliner, Carpet, Curtains, Seat Covering, Counter Tops, and Paneling), 2001-02
• Cruise Control, 2002
• Norcold Two Way Refrigerator, 2014
• New Furnace, 2017
• And many more, too numerous to list
More pictures available on request.
---
NEW! | 1975 Glenbrook & 1978 VW Karman Convertible – Perfect Pair!
WA | $22,500 GMC and $14,000 VW | listed 7-10-2017
Elaine | 509-375-3432
LIGHTLY USED, EXCELLENT CONDITION
GMC  Glenbrook Motorhome – asking $22,500
Custom exterior paint to match the original "ivory" color of "tow car."
New dash cover, two new leather/like driver and passenger seats, plus custom cabinet by driver's seat
Wood underflooring replaced + new vinyl + area carpeting
Dash curtain plus curtain to divide coach
Day/night  blinds  w. cornices matching new couch
2 chairs plus dropleaf wood table
New furnace, new refrigerator/freezer
New sink + faucet and counter top
4 burner stove with conv. oven
All new headliner plus new custom ceiling fans
New mattress and quilted bed spread
Bathroom has shower area plus new toilet
New macerater pump, 2 new side mirrors
2 new 6-volt batteries and towing hitch
All new custom wheels and tires
All owner's manuals, etc.
Engine has always been cared for by professional mechanics
Stored under heavy-duty cover
1978  Classic Karmann Convertible – asking $14,000
Low mileage – 70,910 miles
Fuel Injection
Original paint, interior dash, etc.
Stored in garage
Both vehicles have been lovingly cared for and can be sold separately. Located in the Tri-Cities, Washington state.
---
1975 Palmbeach
MO | $16,000 | listed 5-12-2016
Good Condition – Many Mods – Route 55 Theme.
Bobby Palmer |  | 816-373-4443
---
NEW! | 1976 Birchaven – 23′
OK | $24,000 OBO | listed 7-21-2017
Monte Jestes| 405-747-4634
Rear Full Bath
Ragusa Step,
Fantastic Vents, including that really special one in the bath,
Rear fender "T" Skirts
16″ Alcoa Aluminium wheels, (7)
Billet Hub Caps
Pretty New tires
stored inside,
Rebuilt  2016  less than 1000 miles: Engine, Transmission, 3:21 final drive (Posi Track)
Dave Lenzi front end parts
Dick Patterson's Springfield Ignition, Wires, Distributer and Rebuilt Carb
Jeep Snorkel cold air intake
Blocked Intake Manifold
Stainless Headers 3" – Stainless dual muffler front to rear
New stainless break lines (all)
4 Bag System
All 3 axles have disc brakes: 88mm upfront, Eldorado with Parking brake on rear axle
5 year old heater
New formica in kitchen
Leather front seats
New upholstery in dinette
Flip Flop couch/bed
APC
Electric transmission cooler – Stainless steel hoses
macerator
Microwave
Newer Refrig
All new airlines and Brass fittings
Rebuilt Air valves upfront
Dual belt pulley
Xantrex 3 Stage Charger converter
---
NEW! | 1976 Glenbrook
MN  | $27,000 | listed 8-14-17
Jack Scholes |  | 952-938-8988
93,000 miles. This coach is road worthy. We have spent almost two years having professions make repair and improvements. This spring, the coach was reviewed by a professional for all kinds of little things to get all systems as perfect as possible
Exterior
Original Imron Aviation paint (nearly perfect)
Air Horns
Flame Thrower driving lights
Roof Air – High efficiency, new 2004
Storage Pod and ladder
Rear suspension air bag system inspected – no leaks
Eight new shock absorbers installed
Entry step
Rear wheel skirts
Complete awning
Interior
New headliner 2004
All shades and curtains in good and operating condition
Custom Naugahyde cover for entire carpet when new
Refrigerator -3 way, new 2001
Microwave Oven
Three burner propane range
Water Heater – stainless steel with engine preheat– new 2002
Complete bath (sink, shower, stool)
Wired for TV center and rear compartments
CB Radio
AM/FM/tape deck
Power roof vents
Cab A/C completely rebuilt 2015
Curtain installed to isolate driving compartment for two person driving
Mechanical
Oldsmobile 455ci V8 engine, external cooler
Hydramatic transmission, checked, flushed, new fluid
New exhaust manifold gaskets and connections to new muffler.
New tires 91338 miles
New Batteries
Battery and electrical wiring and cables and replaced as advisable.
Onan generator (6 kw, 115V)
Ignition system all replaced 92,289 miles
Front suspension all overhauled, aligned, and modernized with new linkages and ball joints
Front end and rear end aligned and put on same track with wheel spacers
New power steering pump and steering pulley
New fan clutch
12 Volt converter/charger
---
NEW! | 1976 Palm Beach
NY  | $15,000 | listed 8-14-17
Dave Lepard |  716-901-2436
115,000 miles, TZE 166V101493,  455 engine,  located near Buffalo New York,
one Zip Dee Awning
 2  roof A/C units
 7 Alcoa wheels
 4 bag rear suspension
  Birch screen door
  custom aluminum step
  TAC – VAC  Gauge
  macerator
  two way fridge – 120 AC and propane
  tires – DOT (5206)
  bamboo floor – blond
  wooden panel ceiling – light color
  newer Magic Chef range with electronic ignition
  rear bed – 5 in. memory foam
  rear camera
  rear TV
  Shag replaced with tan colored Burbur
  upholstery – tan cloth
  Exterior paint refreshed – custom stripe decals
  Many LED upgrades / replacements
---
PRICE LOWERED!
1976 Santana by Roll-A-Long – The Paradise Cruiser – 1 of 29 made
FL | $35,000  $25,000 OBO | lowered 4-27-2017
Paul Falce| 386-290-2279
Ok everyone knows this coach, most of you know who did a lot of the work, need I say more about dependable I want to downsize to a 23 footer and the wife is going to be off her feet with her surgery, now is my time to downsize. YES, I know I love traveling in this, Always and everywhere invited to show off.
Here is a list although I'm sure I missed something. yes, you have questions and yes all the work done can be checked and is all in the last 3 yrs.
Yes, you can pay less for another or buy this and be a pirate of the asphalt sea, she is TRAVEL ready, I will personally deliver to your location and give keys right to you, check my Travel page to see where she has been seen. here is the list
Ready for delivery, although I will continue to use until wife's surgery I have nothing to hide on this coach, Ask any questions, tons of photos RV upgrades – Less than 3 Years
New Motor in 2014
New intake manifold new stainless valves Feb 2016
New Manny Tranny Sept. 2016
Front End Rebuilt 2015
Rear End – New bearings and seals 2015
Awning New Canvas and assorted hardware
Four Bag Air Suspension Leveling System
New Rims 2015
Tires are all purchased within last yr
Firestone TransForce 2016
Jack TV Antenna 2015
Exterior Air Compressor Hose Attachments
Schrader Valves 2014
Side Markers – LEDS 2015
Clearance Markers – front LEDS 2016
New Tail Lights – LEDS – Back Up Lights 2015
New Headlights upgraded to Rectangular with LED lights 2016
Outside Electric Plug 2016
Steering Box Replaced 2015
Upper Slip Shaft replaced 2015
Steering Wheel Tilt Yoke replaced 2014
New Dashboard Mac dash supreme 2015
New Dash AC Compressor & Dryer Receiver Upgraded to 134 2015
new mufflers 2015
New Alternator 2015
New Starter 2015
New Surround Sound System and New Front Radio with Six speakers 2015
New Steering Wheel 2015
Newer refrigerator and stove 2013
Windows – New Rubber Trim and Tinting 2013
Tires New in2015-2016
All New KYB Shocks 2015
Generator Carburetor Rebuilt 2016
All New Interior Lighting – LED 2015
New Black Water Tank and Fittings 2014
New toilet 2015
New Water Pump for fresh water 2015
New Adjustable Drag Link 2016
New Lines to Gas Tanks 2016
New Fuel Senders 2016
Tanks cleaned and checked 2016
New body Isolators 2015
New Fuel Transfer Switch 2014
New Front Brakes 2016
New Distributor 2016
New Carburetor – Dick Patterson 2016
New Vinyl on Exterior 2015
New Ragusa Step 2015
New Monitor System 2015
Fully Insulated 2015
New Speedometer 2016
New Inverter and Breaker Box 2015
All New living area Electrical Wiring 2015
New Front Drapes 2015
New Propane Regulator 2015
New Exterior Handle and Porch Lights 2015
Custom Interior 2015
Ken Henderson electric wipers
interior lighting led 2015
Custom Paint 2014
All ACs Work
new cooling fan clutch 2016
new 9 lb radiator cap 2016
new microwave oven 2016  new kitchen, bath sink and shower faucets
memory foam mattress both beds
Lots of little items, new city water hook up, back up lights are led, awning canvas on top is custom color and more expensive fabric, to many little things to list by number, important no but add to upgrade, like LEDs in cabinets, steering with one finger, yes is that good.
The interior is real Bamboo with 3 coats of urethane. Comes with a coach that makes into a bed and can be swapped out for swivel chairs. unique, gen is on Passenger side. Has more storage then you can imagine set-up is twin beds.
---
1976 Glenbrook
NY | $14,999 will entertain all offers | listed 6-21-2016
Suzanne (DelVecchio) Glenn | | 214-616-9792
About 54K mi; owned by former GMCMI board member, George DelVecchio. Interior description: Dinette with Captain Chairs in living space; Kitchen with stove, oven, refrig/freezer, sink; Rear master with Full sized bed. Wet bath with commode, shower, sink. Lots of storage throughout. This motorhome attended several of the rallies from 2009 to 2013. It's exterior is white with black/Maroon accents – repainted by prior owner. Has on board generator, heat and A/C, house batteries separate from engine battery. Switch installed to interchange batteries (learned at one of the rallies.) If you met and got to know George, you would recall his love of cars, planes and GMC coaches! Please help George's bride of 60 years, Joan, find a new owner for this lovely motorhome!
---
NEW! | 1976 Palm Beach
MI | $8,000 OBO | listed 7-10-2017
Rolly Bloomfield | 480-357-8699
Front Wheel Drive, Onan Generator, 454/455 Engine, 114,871 miles, Rebuilt and upgraded final drive transmission at 85,000 miles, Roof air, Not driven much in last 10 years, original manual and updated information from GMC International. Located in Mesa, AZ.
---
1976 Royale
OR | $18,500 OBO | listed 2-17-2017
Gary Bray | | 503-936-8817
Very well maintained. Just had a complete tune-up, safety check and new batteries, it is ready to go.
73,000 Miles
455 V8 Engine
3 Speed- Automatic Transmission
Front wheel Drive
Power Brakes – Power Steering
Roof Air Conditioner
Forced Air Furnace
Sleeps 4 comfortably
2 Sofa's /converts to 2 Twin Bed
Bench Dinette with Table/ converts to Dbl. Bed
Walnut Interior Cabinetry
4 Burner Stove, Refrigerator/freezer
Stainless Dbl. Sink
Lots of storage
Rear Bath
Fully Self-Contained
12V system
Monitoring Panel for battery, tanks, generator hr.
Original owners manuals
Updated interior
Awning
---
PRICE LOWERED! | 1976 GMC Motorhome (Transmode Conversion)
MI | $18,000 | lowered 1-28-17 | $23,000 | listed 07-19-16
Tom Dixon| | 586-731-9037
455 engine; 3.55 Final Drive; 132,523 original miles; 6K Onan generator; Xantrex Truecharge 40+ multistage charger; Alcoa 16″ rims; Birch screen door; Ragusa step; hitch and electric for towing; dark tint on all side windows; side bath; Duo-Therm Penquin low profile 13,500 BTU roof air: Fantastic fans in front and rear; driver and passenger 6 way power seats in customized leather; leather seats in dinette; extra counter space in kitchen area; 6 ft. storage bench with seating; microwave; 2-way fridge (110VAC and propane); 4-burner cook-top; TV outlets in front and rear with cable/air TV switch; roof storage pod; golf cart batteries for house; all manuals; documentation for all improvements and repairs.
The interior living area of my unit was converted in the early 90's by the second owner using the GM motorhome floor plan that featured the side bathroom option with sleeping quarters in the rear (rear bed can be removed and the area converted into another dinette).  The third owner painted the unit in 1995.  I am the fourth owner and purchased it in 1996.
Updates by me: New side frame rails in 1998; new Duo-Therm Penguin low profile 13,500 BTU roof air installed in 1999; Michelin LT225/75R16 LRE XPS RIB tires installed in 2006 at 107K miles; new Bilstein shocks installed in 2006; new calipers, pads and stainless steel hoses installed in 2007 at 113,500 miles; new waste tank in 2008; 3.55 Final Drive in 2009; radiator in 2010; Dick Paterson rebuilt carb in 2013; new engine water pump in 2014; new smaller LP gas tank, new engine battery, new circuit board for Onan generator in 2015; new golf cart batteries in 2016.  Minor repairs maintained by me.
Major Repairs By:
Buskirk-Rush RV and Cinnabar Engineering in Sandusky, MI
Cooperative Motor Works in Orlando, FL
Alex Sirum GMC in Okeechobee, FL
Willing to include a 2000 Chevy Tracker — 2.0L in-line – 4 WD with tow bar and Brake Buddy at this price. Mileage on Tracker is at 139,150.
---
NEW | 1977 Birchaven
CA | $30,000 | listed 7-7-17
Chuck Botts | | 858-449-7376
Significant Mechanical Upgrades
Upgraded front suspension with a one ton truck AWD kit.
Upgraded rear suspension with 4 bag rear suspension kit.
Upgraded stock 455 motor with CO_OP 455 and stock 3.07 differential with a 3.42 unit, producing 20% more torque at 65mph. (Went over 7,000 ft crest with 6% grade at 65 mph.)
Upgraded exhaust system with headers and a 3" exhaust.
Upgraded to a MSD ignition control.
Upgraded radiator and oil cooler to an all aluminum unit.
Upgraded 16.5" wheels to 16" Alcoa Aluminum for radial tires.
Upgraded to fabric sidewall radial LT225/75/R16 D tires.
Age of rear tires are ~2 yrs old & fronts are ~3 yrs old.
Significant Living Space Improvements
Upgraded to AM/FM radio & 10 CD player with 6 ½" speakers.
Upgraded to captains chairs with electric foot rest and 180 degree swivel
Upgraded to removable steering wheel for chair's lay down.
Upgraded 27" flat panel digital TV & antenna.
Upgraded night & day blinds to mini venetian blinds.
Upgraded to a MACERATOR waste tank dump system.
Upgraded to combination 5 yr smoke-carbon monoxide alarms.
Upgraded to "Fire Fight" liquid/foam suppression system.
Painted SR500 Silent-running in engine compartment.
Add AUTOFORMER to raise RV site volts to 120 VAC at 30 amps.
Removed all LNG equipment except for refrigerator supply.
Added small 5 gallon LNG bottle for refrigerator supply.
Thermostatic electric heater.
Additional Information
Our service history book has records of all individual job details done by professional services and includes dates, and cost.
Our book; 250,000 Miles in Small RV's, in both printed and digital formats also lists all modifications in addition to some highlights of our touring experiences.
Call for answers to your questions, more details, or an email of my completed appraisal form.
---
1977 Birchaven
MD | $20,000 | listed 11-15-16
Paul McKean | | 410-242-8854
23′ Birchaven. Garage stored near Baltimore, MD.  Good 455 engine, 115,350 miles, good condition. The coach was maintained by Ken Frey, and has many upgrades.  Galvanized frame by Dan Stuckey. Transmission, radiator, alternator, brakes, tires, batteries, and misc. other parts replaced at 112,000 miles +/-. Batteries maintained by Pulsetech equipment.  New elect. converter installed in 2014. Hot water heater replaced in 2016. Alcoa Al wheels, rooftop storage pod. original AC, microwave, built-in vacuum-cleaner. All maintenance and service records since new. Coach comes complete with sheets, towels, sleeping bags, flashlights, tools, etc. Also, several maintenance and service manuals, all "GMC Newsletters" from Fall 1982 to present, and all "GMC Motorhome Marketplace" magazines from Sept. 1992 to Oct. 2003.
---
NEW | 1977 Eleganza II
LA | $25,000 | listed 7-17-17
Pat Gatlin | | 985-385-1498
New tires and wheels
New generator. Cummings Onan
Ceramic glass cooktop
Refrigerator
Microwave
Radiator
Muffler
Dashboard and gauges
Cruise
Airbags
Shades
I also have the original table and bench seats that make a bed.
---
1977 Lake Placid
OH | $30,000 | 4-17-2017
Ray or Barb Gall | 419-304-2944 or 419-304-3053
Color: Shades of blue and grey. Engine: Olds 455 – Runs good.
Two low profile air conditioners. Roof mounted storage pod and hitch mounted storage pod. Many new items including brakes, tires, fuel tanks and interior items. You will not find a nicer coach, it is ready to travel. Located near Toledo, Ohio. Call or more information.
---
NEW! | 1977 Palm Beach
WI | $27,900 | listed 8-14-17
Martin and Shirley Dable | marshi@centurytel.net
This beautiful coach is a 1996 Clasco wheels-up renovation, and since then has had extensive updates by Cinnabar, Cooperative Motor Works and Grandview Motorhome. A classic with modern safety features and amenities. "In the upper 10% of GMC coaches" per well-respected GMC renovator.
Always stored indoors, some of the features include McNeal custom deluxe dash system, twin beds, dry shower, built-in microwave, flat screen tv, double S/S sinks, laminated galley flooring, convertible dinette and couch.
Exterior in Lexus gold with teal and black striping; interior in soft leather like taupe and mushroom tones.
---
1977 Royale
BC | $22,900 USD | listed 5-16-17
Doug Brown | | 250-307-0661
Dry side bath
Rear twin beds with new custom mattresses
6000W Onan generator with 301 hours
Over 20 years of maintenance records
97,500 miles
---
NEW! | 1977 Royale Rear Bath
FL | $14,000 OBO | listed 6-5-17
Fred Veenschoten | | 850-941-8431
TZE367V101242
455 engine rebuilt at 82,000 miles
3:55 final drive
118,000 miles
new paint 2010
6 alum. rims 16″
new 80mm front brake calipers
carbon metallic rear brake shoes
upsized rear wheel cylinders
spare OEM air bag
tack/vacuum gauge
digi panel
electric fuel pump only
clean fuel tanks and new fuel lines
large black water tank
macerator pump
120 volt refrigerator new
new roof AC 2009
good dash AC with Sanden compressor 2015
dual pulley alternator
Front bearing grease fittings, just greased
battery combiner
new house battery
toad brake system
tow bar
new windshields
---
NEW! | 1977 Royale
WA | $27,500 | listed 8-16-17
Chuck Field | | 206-794-3860 | c: 206-794-3860
We are the third owners of  this wonderful GMC.  It has always been garaged and is in excellent condition with only 17,134 miles on the new Chevy 454 big block motor. This Royale by Coachman has rear twin beds, a side dry bath, solid walnut cabinets, roof air conditioning and 6 kw Onan generator. We are asking $27,500 for the coach and includes manuals, many spare parts,  kitchen and table items, and TV. (26′ – TZE 367V102032)
Specific improvements beyond the Chevy 454 are the following:
16 inch Alcoa wheels
Storage Pod on roof
Flexsteel front seats
Roof air vent covers
Electric emergency vacuum pump
Rebuilt transmission
External fan driven transmission cooler
External engine oil cooler
Correct Track on front wheels
Rear front wheel disk breaks
Front knuckles and front suspension bushings replaced
Drive shafts replaced with 454 modifications
In tank  electric fuel pumps
Ouad air bag suspension system
Engine compartment fire control system
Engine compartment sound and heat blanket
Radiator core replaced
External air intake system for engine
Macerator for gray and black water tanks
Water heater replaced
Tinted Windows
Heat resistant paint on fuel tanks.
Roof mounted solar panel for house battery
Updated carpet and upholstery
New power brake vacuum pump
New furnace
New starter motor
New sink faucet
New propane master valve
---
NEW! | 1978 Eleganza
MI | $25,000 | listed 8-18-17
Greg Smith | | 313-886-8546
Mechanically sound 26 foot GMC with 40,000 miles on the engine and 120,000 miles on the coach. I took my family of 7 on many memorable highway adventures in this coach, mostly in the late 90's (twice to California from Michigan among many other trips).  The coach drives like a dream, please read over the upgrades and if you have any questions please contact me.
Sleeps 6, seats 13 for Tailgate Parties
Original Interior(needs front headliner and Roof Vent), Original Exterior Color
Current owner since 1995
Maintained by Cinnabar Engineering since 1994
Convenience Upgrades: Large Rooftop Pod, 2 Rooftop A/C Units, Two "Fan-Tastic" Roof Vents, Top Mounted Remote Control Spot/Flood Light, Rear Ladder, Front Bumper Fold-Down Step, Screen Door with Fold-up Step at Entrance, Side Window Fresh Air Vents for Driver and Copilot, Caspro Quick Steering (Plus Original Steering box), Full coach dust
Safety Upgrades: Caspro Disc Brakes on Mid-Axle (Plus Original Drum Brakes), Auxiliary Vacuum Pump for Brakes, Caspro Positive Shift Kit, Alcoa Wheels (7), Bilstein Shocks, Roof Mounted Air Horns
455 Jasper Engine with 3.42 Final Drive (Plus Original 3.07 Final Drive, Complete
Headers (thermal coated) into a 3 inch exhaust
Driver adjustable ignition timing with knock sensor
Generac NP66G 6600 Watt Generator (Model 096000-3, S/N 3104828) ​
---
1978 Eleganza II
NY | $10,000 | listed 6-21-16
Suzanne (DelVecchio) Glenn | | 214-616-9792
Original w/ 112K Mi; Wet hot kit and bath; rear BR w/ full; Sofa and dinette convert to sleep many; lots storage; owned by mechanical engineer, George DelVecchio.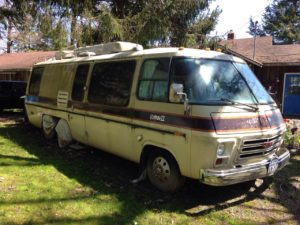 ---
1978 Custom 26′
CA | $45,000 OBO | listed 5-19-17
Marc Trubert | (559) 683-0995 |
Featured in the Spring 2016 issue of GMC Vintage RVing magazine in the GMC Motorhomes on Parade. Renovated by Jim Bounds in 2006 – originally a long kitchen Royale with kitchen relocated left of entry door improving openness look when entering the coach
100k miles since renovation – approx 180k miles total
455 Oldsmobile Miguel Mendez engine (4744 miles on new engine)
Atomic MSD fuel injection on engine
Reaction arm rear disk brakes by Kanomata for braking safely on 6 independent wheels
Thorley headers
Four separate rear air bags making bogie wheels independent
AIR LIFT pressure control for rear suspension 4 air bags
4.10 final drive for additional torque
BLUE OX tow bar
Aluminum wheels – Goodyear tires in good condition
Modern HID headlights
Quiet fuel injection 110 volts ONAN Marquis 5.5 kw generator with transfer switch
Low profile in motion KVH satellite TV antenna and TV set
Pure sine wave Prosine 2.0 inverter charger with additional battery charger
Single waste tank with macerator dumping
Mc Neal dash with additional gauges
GPS Speedhut speedometer and odometer
Transmission temperature sender and gauge
GPS Pioneer navigation system
Centralized house operation panel
Pullout computer station
Corian counter tops
J- sofa corian dinette with additional underneath storage
Queen size rear bed with large cabinet storage and headboard storage
Hers and His hanger closets
Storage under bed
Microwave oven, propane oven and 3 burner cook top, circular kitchen sink
Double pull out pantry
6 cubic ft Norcold refrigerator N641-3R with added 2 exhaust fans
Side bath (driver side) with fine China SEALAND toilet and shower wand
Atwood propane furnace
Dometic roof air conditioner and heat
Three Fantastic ceiling exhaust fans
Electric and propane water heater (water heating while driving disconnected)
Full extension roller drawers throughout
Mini blind window covering
Painted screen privacy windows
Backup camera
Homemade cabin drink holders
Removable square carpet units (Legato) floor covering
Mostly LED indoor lighting – some fluorescent
Third rear brakelight
---
1978 Kingsley – 26′
IN | $30,000 or best offer | listed 4-14-2017
William Ezzell | | 574-370-3049
The following items are new within the past 24 months:
455 Oldsmobile engine and transmission just rebuilt by Alex Sirus with less that 5,500 miles.
Alcoa Wheels
Ramco Mirrors
KYB shock all around
Engine water pump
Double pulley on alternator
Refurbished interior (see photos)
Water tank
Water pump on house water tank
Toilet
Convection, microwave oven
Coram counter tops
GMC straight tract on rear wheels
Front wheel spacers for straight tract
6 new tires
Awing
Ragus aluminum folding door step
Macerator pump
Regular size bed (permanent)
Air-lift (remote) system to rear air bags
Progressive Dynamic 60 AMP with charge wizard
Domestic 2 way fridge
New engine battery
---
1978 Royale
CT | $17,000 | listed 11-10-16
Roderick White | | 860-434-2673
Very good condition, ready to travel. Has many extras including awnings. Call for more information.
---
NEW! | 1978 Royale
VA | $25,000 | listed 6-28-17
Jeff McKain | 757-286-4300
Winner of AACA Historic Preservation award 2015 & 2016. Garaged with 40,750 miles.
This Royale, top of the line in 1978, features every option available, to include 2 ac units, roof top storage container, chrome front and rear bumpers, oven/stove combo, microwave, and built in blender, ZipDee awning. The air bag system works as designed without leaks, never "droops", as well original windshields without delaminating cloudy corners, etc. The original roman shades, privacy curtains, are in very good condition, very original, near perfect for a 40-year-old time capsule. Ragusa pans installed for extra capacity and cooling. The paint, interior, shag carpet etc. appears to be all original with just normal nicks, scratches being touch up along its 40-year life. It clearly shows that this coach has been garaged at least since 1982, and perhaps even earlier. The undercarriage, frame etc., all appear like the 40,000-mile vehicle it is, clean, and original with no rust. Any meaningful upgrades have been performed as long as it would not alter the original appearance, with all systems operating as originally designed.
See the USA in your GMC tomorrow! Thanks for your interest.
Recently serviced/replaced:
2 way Dometic fridge
3 way Atwood water heater
Full service of all fluids, belts, hose, filters engine,trans, onan 6kw gen (400Hrs)
Aluminum intake manifold
3 Diehard batteries
7 Firestone radials Bilstein shocks
---