GMC Motorhomes for Sale – Listed by Year and Model
---
This page viewed over 8,500 times a month and kept current!

A GMCMI Member Benefit: GMCMI members selling their GMC Motorhome can receive a free ad listing on the gmcmi.com website (plus up to 9 photos), quarterly magazine and announcement on the GMCMI Facebook page, Vintage GMC Motorhome facebook page and the gmc.net (forum). Simply send an email to with your ad content, contact information, location, price and up to 9 photos. For more information call Kim at 612-501-4600.

NEW Member Benefit | GMCMI Member Benefit: GMCMI members selling their GMC Motorhome can transfer the remainder of their GMCMI membership to the new owner! Simply inform GMCMI at and a new member packet will be sent to the new owners. Plus, the new owner can purchase the GMCMI Flashdrive for only $10! (including shipping)
Not a GMCMI Member: Simply click here to join GMCMI for $40 and receive all of the member benefits as well! Including free advertising on the website and magazine.
Click here to see GMC Motorhomes that have sold via this listing!
---
NEW! | 1973 Canyon Land – Second Production GMC MH Sold to the Public
WI | $5,500 | listed 11-13-2019
Mike Mager | | 920-765-0557
Historically Significant….This early coach built 11-14-72 has been maintained with few modifications from new. The running gear appears original, the interior floor plan has been kept with changes in seating colors & fabrics. The odometer indicates 94K miles, the 16.5 tires have aged out, the coach is roadable for short distances. The original Parts & service identification (glove box sticker) is available. The original exterior color was Bittersweet. The historical preservation of this coach requires and appropriate restoration back to its original condition.
---
PRICE REDUCED! | 1974 GMC Motorhome
WA | $6,950 $5,900 | listed 6-6-2019 | price reduced 11-11-19
Jeff Eichen | 360-774-2235 |
Fall time! I have made this PRICE drop to move! $5,900 was 9,750.00! Lets find her a new home… Lets's talk. A great coach to finish and personalize. I have invested time + $ and am now sharing this with the GMC Community. Great beginner or even an ADU on your property for the kids or family member to live.
No water damage
81k original miles
455 Oldsmobile V8
Needs new tires
1-Extra clean airbag included
New Furnace- 1k invested
Clean original interior. Great Hard shell headline. One of the most iconic motorhomes in clean original condition. A truly must see.
Come out to the Port Townsend in Jefferson county. I bought this GMC to restore and while beginning the project I bought a 2nd one, So I am selling her now. Here is the list of the major things I have done in the past two years:
Added a brand new Propane heater/ Furnace.
New fluids, filters, etc
Tuned
1- extra Air-bag
Runs well
Motorhome is in very good condition. Mostly original interior and a permanent bed in back, replacing the rear fold-down seats. Dash air conditioning does not work. Zip-Dee awning in not healthy, but I have a very good spare ( Let's talk) I believe it is an A+E awning.  Mechanically good. Has the Olds 455. This is a very decent and clean coach which will restore very nicely. Motorhome has 81,518 miles on the clock, Onan Gen-set is a mystery, but repairable. Sale includes a very nice, extra Air bag.
This GMC comes with a clean title. The gentleman I purchased it from had owned it for several year from Vashon Isle. I spent time getting her to the shape she is in currently with a specialized GMC Mechanic here in WA. Please come see her and Let's make a deal. Here is the link to more photos: http://jeichen.zenfolio.com/p863322392
---
---
1975 Eleganza
WI | $2,100 | listed 9-6-2019
Mike Prettner | 920-285-2342 |
Engine runs good (120,000 miles). Transmission is questionable. Pretty much original. Newer elec/gas frigerator. Ragusa step. Pod on top.
---
1975 Glenbrook & 1978 VW Karman Convertible – Perfect Pair!
WA | $22,500 GMC and $14,000 VW | listed 7-10-2018
Elaine | 509-375-3432
LIGHTLY USED, EXCELLENT CONDITION
GMC  Glenbrook Motorhome – asking $22,500
Custom exterior paint to match the original "ivory" color of "tow car."
New dash cover, two new leather/like driver and passenger seats, plus custom cabinet by driver's seat
Wood underflooring replaced + new vinyl + area carpeting
Dash curtain plus curtain to divide coach
Day/night  blinds  w. cornices matching new couch
2 chairs plus dropleaf wood table
New furnace, new refrigerator/freezer
New sink + faucet and counter top
4 burner stove with conv. oven
All new headliner plus new custom ceiling fans
New mattress and quilted bed spread
Bathroom has shower area plus new toilet
New macerater pump, 2 new side mirrors
2 new 6-volt batteries and towing hitch
All new custom wheels and tires
All owner's manuals, etc.
Engine has always been cared for by professional mechanics
Stored under heavy-duty cover
propane tank, purged and recertified
1978  Classic Karmann Convertible – asking $14,000
Low mileage – 70,910 miles
Fuel Injection
Original paint, interior dash, etc.
Stored in garage
Both vehicles have been lovingly cared for and can be sold separately. Located in the Tri-Cities, Washington state.
---
1976 Glenbrook
FL  | $22,500 | listed 6-18-19
Elias Ohan | 305-772-8810 call or text
Engine olds 455
All new fuel lines replaced from tanks to carburetor with high grade marine fuel hose.
Front wheel drive all in working and running order
The main cabin/engine ac works all the belts hoses etc….
The roof ac works
3way nor-cold fridge n freezer working great
New batteries and alternator on engine and generator compartment
Generator was serviced recently starts right up and powers up the whole rig
16 inch Alcoa stainless steel rims with all new tires
Replaced master cylinder front pads and rotors and bearings all new shocks all around.
The awning is a Zip Dee, works great no rips
Rear brakes were also all replaced.
109K MILES runs great so many upgrades done to this coach to have it road worthy.
---
1976 Glenbrook – Second Owner
MA | $39,000 | listed 8/15/19
Lloyd Donnellan | 781-749-1441 leave message |
A "Head Turner", beautifully restored with custom interior decor. Always garaged.
New Jasper engine with 6,000 miles on the odometer. New Transmission.
The important things you might like to know that are new (replaced):
Heated side mirrors
ALCOA aluminum wheels
windshield, screened entry door and assist bar.
New front grill and 12 V battery.
Best of all, a custom Mercedes 2 stage paint job and two full awnings.
New instrumental dash panel, vinyl swivel seats, carpeting, new tail lights, roof lights, reupholstered interior front cabin, day/night pull-down shades with cornices,
3 way refrigerator, new air conditioner and furnace
under-counter AM/FM radio/disc players, microwave, TV hookup
window covers front and rear
Sewerage macerator
One set of rear brakes and oversized disc brakes front and rear.
Original maintenance manuals.
The BOUDOIR: stunning decor: custom firm mattress on platform with storage under. Insulated roll up window shades and beautiful bed cover and shams.
Bicycle hookup at rear bumper, trailer or auto towing hook-up. There are so many little things….Let the pictures speak for themselves. Turn the key and drive her home.
---
PRICE REDUCED! | 1976 Glenbrook
NY | $13,000 will entertain all offers. Reduced 3-18-2018 | $14,999 listed on 6-21-2016
Suzanne (DelVecchio) Glenn | | 214-616-9792 or 585-794-0762
Located between Rochester & Syracuse on Lake Ontario.  26 foot.  Mileage estimated at 54K.
Interior description: Dinette with Captain Chairs in living space; Kitchen with stove, oven, refrig/freezer, sink; Rear master with Full sized bed. Dinette converts to bed in front.  Wet bath with commode, shower, sink. Lots of storage throughout. Fabric upgraded.
Exterior description:  White with black/Maroon accents – repainted by prior owner. Has storage pod, on-board generator, heat and A/C, house batteries separate from engine battery. Switch installed to interchange batteries (learned at one of the rallies.)
Video at https://youtu.be/GqUvrTXWK4k.
---
1976 Palm Beach –  28′ Stretch
NJ | $37,000 | listed 8-12-19
Jon Darcy | 646-464-3123 |
1976 Palm Beach 28Ft Stretch For Sale, Florida Coach Bought In Florida in 2014. Brought it to Cooperative for a checkout and first round of upgrades.
$55,000 invested in last 5 years asking $37,000
455 rebuilt engine 425 Manny Trans
• All fluids changed
• All rubber hoses replaced
• Body Pads replaced
• Entire Frame cleaned and coated with rust proofing
• Dash replaced with wrap around MAC dash with GPS speedometer
• New Electronic Speed control Module
• 7" Screen Radio with Backup camera
• Convert to R-134a
• New buzzbox replacement with Inteli Power 9100 40Amp
• Add second Fan and Evaporator inside coach. Lots of AC now
• Rework Brakes
• Replace bed in back with 2 Custom Davo bunks couches that open into full size bunk beds.
• Redo all the upholstery
• Install new Driver and passenger Captains chairs with Pleather
• New electronics in Fridge
• Install Tire monitoring and alarm system
• Repair or replace rubbers around windows
• Installed new type wiper arm. Just installed new wiper blades. Drove from Florida to NJ Once Home:
• Pulled and replaced all wheel bearings and brakes
• Replace Vacuum Booster and Master cylinder
• Replaced front rotors
• Rebuilt carb Next Winter had Ken Frey
• Installed Four Bag purchased from Sirum
• Installed Front and rear stabilizers
• Checked suspension and brakes
• Installed Trans cooler Following year: Bought and installed Low hour Honda 610 generator and insulated compartment. Low oil Pressure. Ken Frey replaced motor with one he rebuilt I purchased rebuilt trans from Manny and had installed by trans shop.
Purchased all new Michelin tires. Already had Alcoas. Replaced Failed AC compressor TXV. I purchased new Variable steering motor from Manny, new steering pump and hoses from Applied and replaced. Replaced carpeting in front and installed sound absorbing material in engine compartment.
New 22' zip dee on passenger side to match driver side Installed Fi-tech fuel injection All new batteries Install Cyrix Battery Splitter 230 AMP Install Isolation Switch's for Batteries Install new Front and Real Aluminum Battery Trays Installed vinyl wood flooring in coach Brought to Florida to Cooperative Installed two new roof AC units , one with electric heat. Installed new toilet Installed new Black water tank and new tank monitoring system.
Installed Macerator system Had problems loosing alternators until I found an AC Delco voltage regulator. Been good for two years now but still carry spare Alternator. Spare hoses and belts included. Obvious things left to be done -Partially removed Gas furnace. Needs to be fully removed. Sink and stove should be replaced. Headliner has black stripe stains that annoy me and was on my list to replace.
Paint is 20 Years old and has some bubbles. You need to go up on the roof every year and look for cracks in the caulking and seal. One Side panel on driver side bulging out about ¼". Generator- one of two circuit breakers trip.
Located in Park Ridge Northern New Jersey, near NY State Border
---
1978 GMC Birchaven 23'
CA | $17,000 | listed 8-15-19
Ruth | 805-462-3534 |
403 oldsmobile engine. Runs great. Good Condition, 73,000 miles. Has sittees in back which fold down with mattress over them making an extra long double bed. Sleeps 4, two 2 in dinette. Side bath. Sold and owned in California.
We are the third owners and have had it for 18 years. Have driven it to the midwest on the southern route and back the northern route.
Front brakes rebuilt from the knuckles out. Radial tires. Onan generator. Everything works.
---
1978 Eleganza
MI | $25,000 | listed 8-18-17
Greg Smith | | 313-886-8546
Mechanically sound 26 foot GMC with 40,000 miles on the engine and 120,000 miles on the coach. I took my family of 7 on many memorable highway adventures in this coach, mostly in the late 90's (twice to California from Michigan among many other trips).  The coach drives like a dream, please read over the upgrades and if you have any questions please contact me.
Sleeps 6, seats 13 for Tailgate Parties
Original Interior(needs front headliner and Roof Vent), Original Exterior Color
Current owner since 1995
Maintained by Cinnabar Engineering since 1994
Convenience Upgrades: Large Rooftop Pod, 2 Rooftop A/C Units, Two "Fan-Tastic" Roof Vents, Top Mounted Remote Control Spot/Flood Light, Rear Ladder, Front Bumper Fold-Down Step, Screen Door with Fold-up Step at Entrance, Side Window Fresh Air Vents for Driver and Copilot, Caspro Quick Steering (Plus Original Steering box), Full coach dust
Safety Upgrades: Caspro Disc Brakes on Mid-Axle (Plus Original Drum Brakes), Auxiliary Vacuum Pump for Brakes, Caspro Positive Shift Kit, Alcoa Wheels (7), Bilstein Shocks, Roof Mounted Air Horns
455 Jasper Engine with 3.42 Final Drive (Plus Original 3.07 Final Drive, Complete
Headers (thermal coated) into a 3 inch exhaust
Driver adjustable ignition timing with knock sensor
Generac NP66G 6600 Watt Generator (Model 096000-3, S/N 3104828) ​
---
PRICE REDUCED! | 1978 Eleganza II
FL |$25,500, $28,000 | reduced 12-1-19, listed 10-23-19
Kevin Clapp |
1,700 miles on new 403 motor
2016 – Gas tanks dropped, cleaned and all new fuel lines, new exhaust (complete), new toilet, new rear shocks, isolation pads and engine hatch seal.
2017 – Timing chain, water pump, new converter, new Firestone air compressor, Sirum air bags installed, HEI distributor, windows tinted, replaced front seats, new a/c compressor, new countertop and interior refresh
2018 – Fresh rebuilt 403 engine, oil cooler, rear bearings, front end done by Alex F., to include bearings, Dave Lenzi knuckles and hubs, upper/lower ball joints, upper/lower bushings, outer seals, anti sway bushings, brakes, calipers, brake lines, alignment, new fan clutch, upper steering seal and gasket, Onan circuit board, replaced passenger front windshield and installed sun visor, air dam and fender flares. Four new Firestone Transforce tires plus a new spare.
2019 – Replaced trans pan/fluid with new Applied pan
All mechanical work done at Sirum GMC except as noted.
Also have a 2006 Mini Cooper as a tow vehicle and am willing to negotiate a package deal.
---
1978 Eleganza II
NY | $10,000 | listed 6-21-16
Suzanne (DelVecchio) Glenn | | 214-616-9792
Original w/ 112K Mi; Wet hot kit and bath; rear BR w/ full; Sofa and dinette convert to sleep many; lots storage; owned by mechanical engineer, George DelVecchio.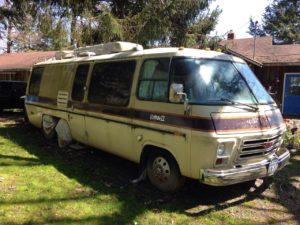 Located in Raleigh, NC
Walnut interior cabinetry
New solid bamboo hardwood flooring with sound deadener underlayment
Double facing couch/bunk beds to the rear of entry door sleeps four, front dinette also can sleep two for total of six.
403 cubic inch motor and TH425 transmission
99K miles
Thorley exhaust headers
3 inch stainless steel exhaust and mufflers (Jim K's kit)
Dick Paterson spark plug wires and oil elbow
Westberg Tachometer/Vaccuum gauge
Supplemental electric fuel pump and large filter back by the gas tanks for priming
Exhaust crossover blocked
Replaced gas tanks and all fuel lines 2017
Full brake service a year ago – new stainless lines front to back, new soft lines front and back, calipers, pads, shoes on trued drums, hardware, master cylinder
Like new Dometic Freedom 2812 110 volt or propane refrigerator (still has interior doors taped for shipping)
Rear bath layout with actual tub and large closet in back
Brazilian Koa rear bath countertop and Delta bar sink faucet
Ragusa entry step
Ragusa rear battery tray
Ragusa two battery front tray
Electro-level system for the rear air suspension operational, pump is a cheap replacement but system integrity is all there.
Large original propane tank is located under the forward facing bench in the front dinette on this floorplan
Onan was just replaced, runs great, remote panel works.
Two Duo-cool house air conditioners in good order
Pull down self tensioning window blinds
KYB shocks
Original style rear suspension air bags with Schrader and lock offs
Two GMC 2500 HD 16" alloy rims (front only) with two year old tires (currently on coach)
Firestone Transforce radial tires on 16.5 steel rims (I would recommend 16" wheel switch when replacing tires next. The Transforces are six years old but in great shape – I personally would not run them after 2019 season, but new owner can determine combo of wheels and tires (see Alcoa option below))
Engine battery and main house battery on Ragusa tray up front
West Marine combiner so house and engine batteries both charge from any source, but can not discharge from each other
Slide out Ragusa tray in generator compartment holds a third 12 volt battery for starting Onan
40 Gallon fresh water tank
15 gallon blackwater tank
25 gallon greywater tank
Macerator and 3" waste plumbing newly rebuilt
Water heater runs off propane, as well as engine heat (new hoses put on this year)
Suburban NT-30 propane furnace
"Through the bumper" tow receiver
Notebooks of owner's and maintenance manuals
Optional items (I have two coaches, will be keeping these if not wanted with the Royale)
7 Alcoas can be included with coach with two year old tires for $3000
Two inch front wheel spacers can be included for $200
Al Branscomb parking brake kit (not currently installed) can be included for $500
New radiator rock guard (not currently installed) $100
Gas tank heat shields (go along the exhaust pipe as a heat barrier, not currently installed) $75
3×5 matching storage pod for the roof (not currently installed) $200
Fiberglass "GMC" moniker spare tire cover (needs the hardware) $150
Not so goods:
Ceiling vinyl is peeling off honey colored wood paneling. I planned to use heat gun to release they vinyl glue and retain the original plywood paneling.
Light fogging on windshield edges, driver side a tad more than passenger. I would not fix it for me, but it's not perfect.
Onan hour meter does not work.
Exterior paint is original, front striping already removed
Some ceiling damage over tub from a previous water leak around sewer vent
Climate vacuum control vent mechanism disintegrated, but I think this is the one year you can get that part from Jim K for $30
One orange clearance light lens is busted
---
26 foot classic motor coach, 403 V8 rebuilt Cadillac engine, automatic transmission, front wheel drive, steel belted radial tires, sleeps 6 adults comfortably, one queen, one double and two bunks, three sinks, shower, toilet, refrigerator, stove and cook top. Lockable gun or valuable storage safe, CB radio, New custom stereo system with 8 speakers, New sage green carpet and upholstery. New headliner and curtains, rebuilt like new Onan, New Brakes, New front air conditioner and heater, New Batteries, New starter, New electric water heater, New water tank, Remodeled bathroom interior, New custom built teak under bed storage unit, teak boat grab bars in master bedroom for extra clothes hanging. New custom built master bed, New exhaust manifolds, New air bag levelers, New custom built steering wheel, New satellite TV antenna, New exterior lights, New custom window tint, Newly painted roof, Solar panels, luggage rack, This highly sought after classic motor home was way ahead of its time and is the only RV ever designed that has kept or increased its value. It has its original paint in the Palm Beach design which is in fair condition. Odometer reads 28,617. The engine was rebuilt at 65,000 miles so the mileage is actually 63,617. New class "A" designer series RV cover in box paid $500. Paperwork on rebuild and all other repairs included.
---
1978 Revcon Chamelot 31.5′
NC | $18,000 | listed 5-30-19
Michael | 336-225-1445 | Calls ONLY please. I do not do texts or emails!
A Zombie Themed – Walking Dead – MadMax – Gothic themed.
YES! It has the Oldsmobile Toronado drivetrain! Almost extinct finding a slantnose with Toronado drivetrain. 99% had Chevy transfer which is a death nail. Has a bike hauler permanently built into back bumper for carrying one moped or motorcycle etc. All repairs listed below are LESS THAN 2 YEARS OLD!!!
Almost $20,000 in JUST parts and labor invested. $18,000 gets everything listed including 2 Chrome Badges that are extinct and sat in a drawer for 20 years.
I'm losing money at this price, and I've never even got to use it.
Following repairs done by Barry Owen (GMC Specialist)
Entire Braking system checked and repaired, replaced as necessary- Stops on a dime!
All hubs, wheel cylinders drums etc.
New Radiator, New Water Pump
Gas Tank removed, restored etc
All fuel lines
All brake lines, rotors, pads shoes
Alternator, All belts, All pulleys, And more
Done by another licensed local mechanic and/or myself:
New Elderbrock Pro Performer Chrome Intake
New Elderbrock 650 CFM Carb
Hew Holley High Performance Fuel Pump
Rear FP
ALL hoses and ALL tubing to engine
complete engine overhaul
Manifold gaskets
exhaust gaskets
donuts
Gauges, valves, and on motor gauges, fuel filters, canisters, points plugs wires distribution rotor cap button and much more ($7,000 total in engine alone)
6 BRAND NEW TIRES ($1,300)
Exterior painted flat black. These was to be zombie apocalypse or madmax themed motorhome. Perfect for Burning Man or Wastelanders! A turret and flamethrower will be included. Working on a cowguard for front bumper. Have cages for windows. Gothic cast iron candle holders on side.
New LED lights all around.
New Carpet
Painted Interior eggshell bright white (for LED reflection effects) Planned to put red led all through interior.
Accents in turquoise & yellow** see below
New drivers floorboard (window was left barely cracked open for 25 years)
Restored dog box
New brake pedal, linkage etc
CD player and New speakers
New matching couch/trundle bed
Funeral Home Bowtie Curtains (switched theme to Gothic) **(recommend repaint accents in Burgendy..)
Generator rebuilt (float still needs work)
Electrical checks ok
Runs like a beast! VERY FAST! Sounds AWESOME!
Restored some of plumbing with Pex and upgraded pump
Top AC units removed (can be stored "hidden" in a standard car garage per HOA requirements) and sunroofs installed (pics taken before this was done)
We have a new huge portable 18,000 BTU $1300 120V Heat pump and ac for an additional $750.
We have a mock turret and real flame thrower for roof
We have 2 large NOS chrome Revcon Wall badges from Fountain Valley CA (Find another pair of these! I dare you!)
Bathroom was left 100% original minus new carpet just for laughs. Why anyone would want to keep this original with 4 shades of brown and 3 shades of tan is beyond me. I also have the original "castle" curtains. If you want them. I kept EVERYTHING just in case.
Over 60 modifications total in past 2 years. Still needs a few minor things. WE NEVER USED IT.
We have the ORIGINAL full length awning but it will need new vinyl.
We have a lot more as well.
Installed solar panel on roof and fueless Humvee Generator
---