GMC Motorhomes for Sale – Listed by Year and Model
---
This page viewed over 8,500 times a month and kept current!

A GMCMI Member Benefit: GMCMI members selling their GMC Motorhome can receive a free ad listing on the gmcmi.com website (plus up to 9 photos), quarterly magazine and announcement on the GMCMI Facebook page, Vintage GMC Motorhome facebook page and the gmc.net (forum). Simply send an email to with your ad content, contact information, location, price and up to 9 photos. For more information call Kim at 612-501-4600.

NEW Member Benefit | GMCMI Member Benefit: GMCMI members selling their GMC Motorhome can transfer the remainder of their GMCMI membership to the new owner! Simply inform GMCMI at and a new member packet will be sent to the new owners. Plus, the new owner can purchase the GMCMI Flashdrive for only $10! (including shipping)
Not a GMCMI Member: Simply click here to join GMCMI for $40 and receive all of the member benefits as well! Including free advertising on the website and magazine.
Click here to see GMC Motorhomes that have sold via this listing!
---
---
NEW! | 1973 Glacier
OK | asking $34,500 | listed 11-10-2020
Bob Ankersheil | Phone or Text 210-788-1091 for additional information
95 % Restored! Extreme Paint and Graphics exterior restoration with original paint scheme and graphics. Updated interior with Eurotech Captain chairs for driver, passenger and matching sofa. Quad air rear suspension. Coleman heat pump/heater. Sanden air conditioner compressor. Atwood stainless steel 2 burner cooktop. Norcold refrigerator. Microwave.  New windshields. American Racing aluminum wheels. Vin TZE063V100282
---
NEW! | 1974 – 26′ GMC Motorhome
IN | $26,000 | listed 11-16-2020
Ken Pickett |
This coach has many updates both mechanical and convenience. We haven't been able to use it much for the last three years. Just too much going on. We have kept it inside for the last eight years after replacing the frame and getting a fresh paint job. Also included is a 2000 Chevy Tracker with tow bar and brake control.
Four Bag Rear Suspension
Howell Electronic Fuel Injection
New Front Calipers
Two Swivel Rocker Chairs
New Refrigerator (2016)
Aluminum Wheels
New Tires (2014) Less than 10,000 miles
Ramco Remote Mirrors
Microwave
Frame replacement in 2009
Valve Grind in 2015
Privacy/Blackout Blinds
Screen Door
---
1976 Eleganza
WA | $35,000 OBO | listed 10-1-2020
Richard & Rita |
Richard 541-517-0194 | Rita 509-438-7103
$21k in upgrades done this past year
455 cu. Olds w/50,000 miles
Restored interior
New Professional Paint done by RV pros
New headliner, vinyl tile and carpet
Rebuilt front end, shocks,upper and lower ball joints, wheel bearings, rebuild of upper and lower A frame arms.
Windows resealed
New, upgraded kitchen faucet
$30k in upgrades to the drive train
Meticulous records and original manuals included
House A/C runs cold, one has been updated
New water pump & water tank inspection
New battery isolator
Rebuilt steering column
6,000 watt Onan generator just tuned up
Brakes front and rear replaced
Newer Refrigerator
3 burner stove
Bunk bed conversion, reupholstered
16″ Alcoa Aluminum wheels
---
PRICE REDUCED! | 1976 Eleganza II
CA | $15,000;  $16,500 | listed 5/20/2020; reduced 1/13/2021
Tim Jordan | | text 650-464-5666.
65,000 miles, owned & used by me for 20+ years,
Many upgrades, many in last year: all brakes, reengineered emergency brake with pulleys, new master cylinder, one new rear brake drum, new air bags, all fuel lines from tank to fuel pump & new fuel pump, Dometic refrigerator warranty upgrade (runs propane, 110V or 12V), new rebuild of dining and couch areas to fold out to two twin beds with self-closing drawers for easier storage access under both areas. All coach and motor batteries are two years old. Within 5 years: new running lights, new fantastic fans on top front and back, new carburetor, new mufflers and exhaust pipes, new intake manifold, double belted pully for power steering & holding bracket, new air compressor for air suspension, new steering box, new shock absorbers on all wheels. Bamboo flooring, original layout. Reliable Onan generator has been serviced, low mileage Michelin tires all around. VIN # – TZE166V100421 Passes smog for California. Near San Francisco.
---
1976 Glenbrook
NY | $13,000 will entertain all offers. | 3-18-2018
Suzanne (DelVecchio) Glenn | | 214-616-9792 or 585-794-0762
Located between Rochester & Syracuse on Lake Ontario.  26 foot.  Mileage estimated at 54K.
Interior description: Dinette with Captain Chairs in living space; Kitchen with stove, oven, refrig/freezer, sink; Rear master with Full sized bed. Dinette converts to bed in front.  Wet bath with commode, shower, sink. Lots of storage throughout. Fabric upgraded.
Exterior description:  White with black/Maroon accents – repainted by prior owner. Has storage pod, on-board generator, heat and A/C, house batteries separate from engine battery. Switch installed to interchange batteries (learned at one of the rallies.)
Video at https://youtu.be/GqUvrTXWK4k.
---
PRICE REDUCED! | 1977 Eleganza II
CA | $17,500 – $23,000/OBO | listed 6-15-2020
Ronald Shoffeitt | 
Recently serviced by Applied GMC in Newark, California! Oil lines, Onan control board and harness, coil, spark plugs  replaced, Onan generator serviced, adjustable height link airbag isolators installed, LED Safari headlights.
The prior owner of this RV was my father and he was meticulous in servicing this GMC.He installed a newly rebuilt transmission and appreciated the GMC as the best RV to drive.  I drove from Central California and stopped at Applied GMC in Newark, California to have the GMC inspected and worked on by a certified GMC RV professional.  We have all the repair paperwork and GMC manuals that my father kept on this GMC Motorhome.
---
---
1977 Kingsley Clasco
FL | $60,000 $70,000 | listed 2-28-2020 | price reduced 7-24-2020
Bruce Bisping | 952-237-3882
125,000 miles.  Coach was in Texas from 1977 until 2013, Michigan for three years and Minneapolis, Minnesota, garaged at all times when not in use. Coach is now at the GMC Coop at Orlando FL. Extensive update by Jim Bounds at the Cooperative Motor Works in 2016-2020
New Quad Bag system installed 2016
New King Jack HDTV over air antenna installed in 2019
Two Maxxair 7000 MaxxFan Deluxe Exhaust Fans installed in 2019
Rebuilt Honda EV 6010 Generator Set installed in 2019
"New" 455 cubic inch engine – rebuilt and installed by Cinnabar.  1500 miles on rebuilt engine
Alcoa rims including spare, 7 new tires
Rear Twin Beds
Voyager Color CCD IR LED Rear camera with 7" monitor
2 Televisions with built-in DVD players
Electric induction cooktop with pans
Microwave
2 New Coleman Mach8 Air Conditioners
New leather dinette, conversion sofa and front driver and passenger seats installed in 2017
Dry bath
Norcold refrigerator – AC/DC/Propane
Hot water – AC/Propane and "engine heated"
Trailer hitch and electric brake control
Cover
Pergo flooring
Day/night blinds
Diamond plate bumper fills
Extensive maintenance by Cinnabar in past years, including front and rear brakes, hoses, master cylinder, suspension, front and rear bearings, shocks, radiator
New shocks front and rear, new wheel bearings on all wheels.
New headliner installed in 2019
---
NEW! | 1977 GMC Motorhome
NY | $8,000 | listed 10-8-2020
Anthony Rovito Jr | 716-244-1209
This coach has a rebuilt 455 Oldsmobile engine with new bearings, cam, pistons, valves, valve springs and retainers new oil pump, intake manifold and exhaust headers; engine block and cylinder heads machined and line bored less than 10,000 miles on the engine. It needs a carburetor put back on it as the Holley fuel injection that was put on it 18 years ago no longer works.
Rebuilt brake calipers & pads
New brake proportioning valuves
New rear brake lines, wheel cylinders
New brake drums, bearings
New trailer arm bushings
New air bags and cups
Has original ONAN generator
Has 2nd AC unit that can be installed
Has rebuild calipers, wheel cylinders, new brake lines, new brake proportioning valve, new air bags with aluminum pucks (all done a few years ago. new bushings in trailing arms, air compressor works perfectly.
Full size refrigerator installed.
Microwave, coffee maker and oven work perfectly
AC works good
Full repaint with both Windshields replaced 10 years ago.
We had many wonderful trips in this vehicle – it is a wonderful example. Will take more pictures to suit you, just feel free to ask!
---
NEW! | 1977 Palm Beach
VA | $24,000 or best serious offer | listed 10-22-2020
Dave Trinkle | 540-314-8875 (texts only) |
This is IT! Yes, a classic, in great condition 1977 GMC Palm Beach Motorhome. Sleeps up to six with a set of bunk beds that come from long sofa, double bed from dinette, and full in rear from two sofas. Full bath.
All original items remain but with many upgrades including but not limited to updated air suspension, replaced engine, new tires, new AC and Heat, new water heater, stereo and sat tv installed inside and out, rear back up camera, new water pump. Onan generator. All the classic originals still there: corduroy upholstering, shag carpet, matching counters/fridge, stainless oven and stove, wood cabinets with lots of storage, and on board vacuum system.
I am the 3rd owner. Originally came from Spokane, Washington to North Carolina to Virginia. Needs very limited work now but obviously maintenance requirements occur at times. Same model as movie Stripes EM-50 Urban Assault Vehicle. Will consider serious offers.
---
NEW! | 1977 Royale
AL | $45,000 | listed 9-23-2020
Frances McMillan |
This garage-kept motorhome has the original 455ci engine with 62,300 miles, new Remflex exhaust manifold gaskets and a new large cooling fan commonly used on large commercial trucks.
It was completely gutted and rehabbed during a period from 2014-2018.   During this time additional insulation was added to the ceiling and walls, which were refinished in FRP.  Much of the wiring was replaced and some added, including wiring for a future rear air conditioner, which is easily accessed in the ceiling behind the rear fan.
Three new Fantastic Fans, ceiling fan covers, new LED clearance lights, tail light assemblies, and interior 12v light fixtures were added.  All new PEX pipes were used for plumbing.  The new propane furnace works well and is controlled by a digital thermostat, includes exterior access door.
The interior ceiling caps were repaired and repainted, all old carpet removed and new vinyl flooring installed.  The cockpit floor and engine cover were replaced and recovered in carpet.  There was found to be no rust damage to the frame during this time.  The LPG tank was removed, cleaned and inspected by a professional; new regulator installed, tank repainted and filled.  The generator is the original, 6500-watt Onan with new circuit board, air cleaner and muffler.
All seating has been reupholstered in auto fabric.  All new dry bath with roomy shower, toilet, vanity countertop, sink and faucet.  All of the solid walnut cabinetry was removed, refinished and reinstalled.  Kenwood AM/FM/CD Radio, wall-mounted Panasonic television and JACK Digital HDTV antenna.
The side windows and door window are new and the "toll" windows were resealed.  New custom-built interior window boxes and cordless Levelor cellular blackout blinds added.
The exterior was professionally painted in a two-tone color scheme including clear coats; light copper above rub rail, brown below; bumper and side vents powder-coated black.  Lumina windshield wiper arms were added, with new wiper blades and hose installed 2019.  The receiver hitch is a through-the-bumper type as shown in photo.  The Zipdee awning is original with new spring; aluminum was powder-coated in black, pulling rod included; 2010 awning fabric is in good condition.
The Dash Heat/AC "box" was inspected and resealed and all vacuum components were checked for proper operation.   A new wireless Viair compressor was added, including remote, which replaces original switch control system to the left of driver seat.
New Atwood On Demand tankless propane water heater installed; functions very well; inspected 2019; includes exterior access door.  New 85-amp alternator with new Alternator Protection Cable.  The original Rochester Quadrajet carburetor was rebuilt by Jim Bounds.
NEW IN 2019:  Angled air vents (powder-coated black), mufflers, tag light, steering shaft boot, horn, cruise control transducer, transmission cooler, braided stainless steel oil cooler lines, transmission filter kit, suspension bushings, axle boot, additional marine-grade fuel filter system including electric fuel pump which works in conjunction with the normal mechanical pump, Ragusa transmission pan, hubs and knuckles rebuilt and machined by David Lenzi, fuel tanks replaced with single 53-gallon aluminum tank, and large fuel filtration separator system installed as well as new fuel lines including new filler elbows and flex line leading into carburetor/filter.
ACCESSORIES, SPARE PARTS and TOOLS:   Torque wrench with socket for lugs, lug nut cover tool with extra covers, DVD player with remote, Ragusa step, Ragusa work tray, Digipanel, Garmin RV 760 GPS/ backup camera with manual, 3-ring binder containing many manuals, receipts, etc., 1975/1976 Maintenance Manual, 1977 Operating Manual, 1977 Parts Book. governor gear, alternator belt, oil filters, new bottle jack, Ragusa hook, and custom-made steel adaptor to fit under the GMC rear wheel bogies, and miscellaneous small parts.
AIR BAGS: Sully air bags with independent Schrader valves.  Emergency air bag substitute kit included.
AIR CONDITIONERS:  Functioning original dash air supplemented by a large evaporator from Vintage Air which works very well.  The new front roof Dometic Duracool air conditioner functions well.
BATTERIES:  One house battery in the rear on slide-out tray which also starts the Onan generator.  Two batteries in front, one for the engine and one house battery, which are charged by the alternator via a new 140-amp isolator.  A new spare 80-amp isolator is included.  The inverter in the rear electrical set-up also charges both house batteries.  New Battery Combiner (charges house and engine batteries when driving.)
BRAKES:   80mm disc brakes on front and middle wheels, newly rebuilt drum brakes on rear (retained to keep parking brake functional).  All new parking brake system.  New Dave Lenzi dual port sensitized power brake booster and new master cylinder, new stainless steel brake lines, vacuum pump for brake booster, and Albert Branscombe stainless steel parking brake cable.
ELECTRICAL:  30 amp service.   When the coach was rewired, additional outlets were added, including one in the closet powered by the generator.  All 12v and 110v wiring completely inspected and repaired/replaced where necessary.  New monitor panel and new DC fuse panel for coach.  Progressive Dynamics AC/DC converter/charger.  Progressive Industries HW30C 30 Amp Hardwired EMS-HW30C RV Surge & Electrical Protector with manual, installed 2019.
KITCHEN:  New Magic Chef microwave, sink, faucet, lighted vent above range.  Newer Norcold LPG/120V Refrigerator from 2008 RV, works very well on propane or electric, includes exterior access door.  Original propane 4-burner Magic Chef oven in excellent condition.
SEWER:  Standard hose contained in tube behind bumper.  Macerator tube installed in narrower tube under body.  Macerator switch located behind generator access door.
TIRES/WHEELS:  Seven 16" two-year-old tires.  Spare contained in custom aluminum tire cover, Alcoa aluminum rims, new rear wheel bearings.
---
NEW! | 1977 Sequoia – 26′
MD | $15,000 OBO. Bring all serious offers only. | listed 12-20-2020
Stephanie O'Neil |

"Love my GMC, but I'm moving overseas with my job and can't take it with me. Leaving in about 10 days.
New 455 engine – less than 1000 miles, new exhaust system, runs nice and quiet. Work performed by Ken Frey.
Was in the middle of renovating, will provide you all of the things we have. (My focus was on the mechanics, making sure it ran well so we would be safe when traveling.)
New stove
New refrigerator
New sink
New microwave
New mini blinds
New batteries
Lots more
Please note – over $14K of work was done on the RV in the last 12 months (e.g., new engine, exhaust, etc). This means, you are either getting the vehicle for free or the work for free. (I could ask for much more given all the amenities, but I also realize you will need to finish the work we didn't finish. So, priced to be fair and to go quickly.)
Please also note: this RV runs great and can be driven anywhere. If I wasn't leaving, I wouldn't be selling it.
---
1977 Royale
VA | $12,000; however, will consider reasonable offers | listed 5/20/2020
Mae Arrington | | 804-780-0093 H | 804-335-6075 C

26' – Engine runs well; comes with awnings that are only 3 years old; center bath; rear twin beds; parquet floors; stove; refrigerator; microwave, and TV included; silver with blue stripes. Needs a good home! Selling as is!
---
1978 Eleganza II
NY | $10,000 | listed 6-21-16
Suzanne (DelVecchio) Glenn | | 214-616-9792
Original w/ 112K Mi; Wet hot kit and bath; rear BR w/ full; Sofa and dinette convert to sleep many; lots storage; owned by mechanical engineer, George DelVecchio.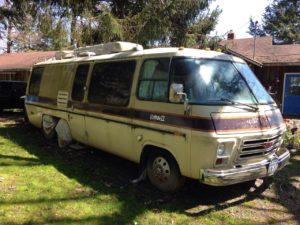 PRICE LOWERED! | 1978 26' Golby Clasco Twin Bed Conversion
KS | NOW $34,500 – Asking $39,000 | listed 7-27-20
Steve Riley |
Conversion to Rear Twin Beds, Dry Side Bath by Golby GMC
Brought to Kansas from central Florida 6 years ago, after scouring North America  for a Golby/Clasco rear twin floorpan in great condition (recent ones have sold between 40K and 70K)
403 motor, running great, replaced exhaust manifold/gaskets on arrival, good compression tests, new plugs, plug wires.
Carefree Colorado Retractable awnings all around
Rooftop storage container, Dual air conditioners
Alcoa wheels all around, even the spare.
Firestone tires x7, and tire covers.
Electric fuel pump.
Tilt steering wheel, new leather.
Super comfy reclining driver and passenger seats.  Dual front fans on sharp removable center console table.  New engine hatch latch hardware.
Flat screen tv connected with dash mounted stereo/DVD. Backup camera display on stereo headunit.  CB radio.
Bath with separate spacious and private shower. New silent bathroom ceiling vent fan. Bedroom has sliding door for privacy, with its own A/C unit.
Apartment style domestic refrigerator/freezer. Full size microwave. New dual burner induction stove. New larger stainless sink.
50 Amp extension cord with adapters for 15 and 30 amp outlets. Previous owner converted from propane to all electric.
Built-in stow away dining table, when converting dinette to a full sized airbed.
Sofa with storage below, that converts to full length bunk beds, when three separate beds aren't enough… this makes five individual beds plus the two recliners. All new upholstery at the time of conversion.
Windshield privacy screen. Dual opacity sheer/privacy blinds on all windows.
Laminate wood floor.
Airbag suspension previously converted to manual inflation valves.
Onan generator with 103 hours.  Runs great.
Fire suppression system.
Macerator pump added for holding tank.
Closet space for each rear twin bed, memory foam topped mattresses are very comfortable.
Trailer hitch with functional trailer wiring.
Rooftop ladder
Covered storage
New batteries and onboard charger
Extensive 100K service at Sirium GMC included new timing chain, water pump, A/C conversion, front and rear wheel bearings, alignment
Currently at 120K miles.  Just finished replacing all fuel lines with Gates Barricade hose and dropping fuel tanks for replacement of fuel screens, and bled brakes all as preventative maintenance.
---
NEW! | 1978 Palm Beach – Off the Frame Restoration!
IL | $40,000 | listed 10-1-2020
Bob Stone | 618-964-9124
Rebuilt 455 motor, transmission, 366 final drive, front suspension, four bagger, hydroboost stainless steel lines and hoses, mascerator, stainless mandrel bent exhaust into 1 – 3″ out. A must see!
1978 Revcon Chamelot 31.5′ with an Oldsmobile Toronado drivetrain!
NC | $19,500 obo | listed 7-9-2020
Michael Owens at 336-225-1445 | Calls ONLY please. I do not do texts or email!
Zombie Themed – Walking Dead – MadMax – Gothic themed.
SEE ALL RENOVATIONS!
YES! It has the Oldsmobile Toronado drivetrain! Almost extinct finding a slantnose with Toronado drivetrain. 99% had Chevy transfer which is a deathnail.
Has a bike hauler permanently built into back bumper for carrying one moped or motorcycle etc.
"Could easily be repainted if you don't like the black color."
Now mostly replumbed with red and blue pex, and includes two $300 oil rubbed bronze Victorian Faucets. (Kitchen and lavatory) Also now includes a brand new unused black futon, and 6 aluminum stabilizers."
Following repairs done by Barry Owen (GMC Specialist) are less than 2 years old!
Entire Braking system checked and repaired, replaced as necessary- Stops on a dime!
All hubs, wheel cylinders drums etc
New Radiator
New Water Pump
Gas Tank removed, restored etc
All fuel lines
All brake lines, rotors, pads shoes
Alternator
All belts
All pulleys
And more
Done by another licensed local mechanic and/or myself:
New Elderbrock Pro Performer Chrome Intake
New Elderbrock 650 CFM Carb
Hew Holley High Performance Fuel Pump
Rear FP
ALL hoses and ALL tubing to engine
complete engine overhaul
Manifold gaskets
exhaust gaskets
donuts
Gauges, valves, and on motor gauges, fuel filters, canisters, points plugs wires distribution rotor cap button and much more ($7000 total in engine alone)
6 BRAND NEW TIRES ($1300)
Exterior painted flat black. These was to be zombie apocalypse or madmax themed motorhome. Perfect for Burning Man or Wastelanders! A turret and flamethrower will be included. Working on a cowguard for front bumper. Have cages for windows.
Gothic cast iron candle holders on side.
New LED lights all around.
New Carpet
Painted Interior eggshell bright white (for LED reflection effects) Planned to put red led all through interior.
Accents in turquois & yellow** see below
New drivers floorboard (window was left barely cracked open for 25 years)
Restored dog box
New brake pedal, linkage etc
CD player
New speakers
New matching couch/trundle bed
Funeral Home Bowtie Curtains (switched theme to Gothic) **(recommend repaint accents in Burgendy.)
Generator rebuilt (float still needs work)
Electrical checks ok
Runs like a beast! VERY FAST! Sounds AWESOME!
Restored some of plumbing with Pex and upgraded pump
Top AC units removed (can be stored "hidden" in a standard car garage per HOA requirements) and sunroofs installed (pics taken before this was done)
We have a new huge portable 18,000 BTU $1300 120V Heat pump and ac for an additional $750.
We have a mock turret and real flame thrower for roof
We have 2 large NOS chrome Revcon Wall badges from Fountain Valley CA (Find another pair of these! I dare you!)
Bathroom was left 100% original minus new carpet just for laughs. Why anyone would want to keep this original with 4 shades of brown and 3 shades of tan is beyond me. I also have the original "castle" curtains. If you want them. I kept EVERYTHING just in case.
Over 60 modifications total in past 2 years. Still needs a few minor things. WE NEVER USED IT.
We have the ORIGINAL full length awning but it will need new vinyl. We have a lot more as well. Almost $20,000 in JUST parts and labor invested. $18,000 gets everything listed including 2 Chrome Badges that are extinct and sat in a drawer for 20 years.I'm losing money at this price, and I've never even got to use it.
---
---