GMC Motorhomes for Sale – Listed by Year and Model
---
This page viewed over 8,500 times a month and kept current!

A GMCMI Member Benefit: GMCMI members selling their GMC Motorhome can receive a free ad listing on the gmcmi.com website (plus up to 9 photos), quarterly magazine and announcement on the GMCMI Facebook page, Vintage GMC Motorhome facebook page and the gmc.net (forum). Simply send an email to with your ad content, contact information, location, price and up to 9 photos. For more information call Kim at 612-501-4600.

NEW Member Benefit | GMCMI Member Benefit: GMCMI members selling their GMC Motorhome can transfer the remainder of their GMCMI membership to the new owner! Simply inform GMCMI at and a new member packet will be sent to the new owners. Plus, the new owner can purchase the GMCMI Flashdrive for only $10! (including shipping)
Not a GMCMI Member: Simply click here to join GMCMI for $40 and receive all of the member benefits as well! Including free advertising on the website and magazine.
Click here to see GMC Motorhomes that have sold via this listing!
---
NEW! | 1973 Canyon Lands
IA | $18,500 | listed 5-9-19
Bob Dunahugh | 319-521-4891 |
Just completed restoration. Bought it to fix up for our daughters family. Then a medical issue came up for her. Now to plan B – sell. There's been a lot more detail that went into this GMC. Then one that's up for sale. Or one that got bought to flip for profit.
This 73 Canyon Lands has just had the entire interior removed, refinished as needed, and reinstalled. Cabinets, and drawers have  been  reassembled with glue, and screws for durability. Interior of closet drawers have been sanded. And a coat of clear urethane applied  for a clean surface. The closet had  been lined  with Cedar. New modern looking counter top. New plywood ceiling that has a mold, and  mildew resistant coating applies to both top, and bottom sides. Real walnut paneling installed  from the door forward. A high end cloth headliner that is used in custom  built Winnebago Motorhomes has been installed. With 8 LED recessed lights. These lights are controlled by wall switches. Great for short adults, or children. Bed area, and hall lights can be turned on at front door. Then turned off from rear bed. All new under cabinet lights are LED's. Two Fantastic ceiling vents units in ceiling. One is new. TV coax cable, and USB ports installed at front, center, and rear of couch. Newest in  electronic 110 volt to 12 volt converter installed. More 110 volt plugs added. New window treatments. $2,400 spent on  all cushion/seats. New  flooring. Built in micro wave cabinet.
These next items are also new. Roof A/C unit, Magic Chief 4 burner cook top, Dometic frig/freezer,  Sur flow  water pump, and a replacement Suburban furnace. These appliances where replaced at a cost of $2900. Outside paint is older. But nice.
Mechanicals. New 16″ American Eagle  rims. With Dunlop tires. 6 new KYB shocks. Both gas tanks flushed, and installed with new gas tank sending units. With new rubber gas line. New exhaust tail pipe. Complete 78  rear suspension, and brakes installed. All brake hoses replaced for safety. Main frame is in excellent condition. Cleaned, and painted. Engine oil pressure is good. Compression readings are excellent. At 150 to 155 psi.  All belts are  new. Transmission has been serviced. And is in good condition. The drivetrain has absolutely NO oil leaks.
New cam timing chain/sprockets,  engine water pump, and front brake hoses/caliper and brake pads. Carburetor rebuilt. New ignition points, plug wires, and spark plugs. This GMC will be able to travel anywhere in the country. I taught Industrial Arts auto/woodworking. Been into GMC's since 2003. I've rebuilt three GMC's before this one. One for a close friend. And two different ones for our personal use. I have many more photos that I can send.
---
1973 Custom GMC Canyon Lands Handicap Design
OH | $27,900 | listed 5-31-17
Tom Hampton-Grandview Motorhome | | 937-537-1612
Rebuilt Final drive
Rebuilt Transmission
Frame is in good shape
Handles great
Runs strong
Paint good but not perfect
Sleeps 4
Dinette chair converts to handicap bed ( 8 way power seat )
Rear Flex Steel jackknife couch
Microwave
Glass cooktop
Norcold refrigerator
New Mac Dash
3 – 8 way power seats and more in vinyl
Handicap shower and toilet
Honda generator
Alcoa wheels
---
1975 Glenbrook & 1978 VW Karman Convertible – Perfect Pair!
WA | $22,500 GMC and $14,000 VW | listed 7-10-2017
Elaine | 509-375-3432
LIGHTLY USED, EXCELLENT CONDITION
GMC  Glenbrook Motorhome – asking $22,500
Custom exterior paint to match the original "ivory" color of "tow car."
New dash cover, two new leather/like driver and passenger seats, plus custom cabinet by driver's seat
Wood underflooring replaced + new vinyl + area carpeting
Dash curtain plus curtain to divide coach
Day/night  blinds  w. cornices matching new couch
2 chairs plus dropleaf wood table
New furnace, new refrigerator/freezer
New sink + faucet and counter top
4 burner stove with conv. oven
All new headliner plus new custom ceiling fans
New mattress and quilted bed spread
Bathroom has shower area plus new toilet
New macerater pump, 2 new side mirrors
2 new 6-volt batteries and towing hitch
All new custom wheels and tires
All owner's manuals, etc.
Engine has always been cared for by professional mechanics
Stored under heavy-duty cover
1978  Classic Karmann Convertible – asking $14,000
Low mileage – 70,910 miles
Fuel Injection
Original paint, interior dash, etc.
Stored in garage
Both vehicles have been lovingly cared for and can be sold separately. Located in the Tri-Cities, Washington state.
---
PRICE LOWERED! | 1976 Glenbrook
MN  | $21,000 $27,000 | listed 8-14-17 lowered 7-1-18
Greg |
93,000 miles. This coach is road worthy. We have spent almost two years having professions make repair and improvements. This spring, the coach was reviewed by a professional for all kinds of little things to get all systems as perfect as possible
Exterior
Original Imron Aviation paint (nearly perfect)
Air Horns
Flame Thrower driving lights
Roof Air – High efficiency, new 2004
Storage Pod and ladder
Rear suspension air bag system inspected – no leaks
Eight new shock absorbers installed
Entry step
Rear wheel skirts
Complete awning
Interior
New headliner 2004
All shades and curtains in good and operating condition
Custom Naugahyde cover for entire carpet when new
Refrigerator -3 way, new 2001
Microwave Oven
Three burner propane range
Water Heater – stainless steel with engine preheat– new 2002
Complete bath (sink, shower, stool)
Wired for TV center and rear compartments
CB Radio
AM/FM/tape deck
Power roof vents
Cab A/C completely rebuilt 2015
Curtain installed to isolate driving compartment for two person driving
Mechanical
Oldsmobile 455ci V8 engine, external cooler
Hydramatic transmission, checked, flushed, new fluid
New exhaust manifold gaskets and connections to new muffler.
New tires 91338 miles
New Batteries
Battery and electrical wiring and cables and replaced as advisable.
Onan generator (6 kw, 115V)
Ignition system all replaced 92,289 miles
Front suspension all overhauled, aligned, and modernized with new linkages and ball joints
Front end and rear end aligned and put on same track with wheel spacers
New power steering pump and steering pulley
New fan clutch
12 Volt converter/charger
---
PRICE REDUCED! | 1976 Glenbrook
NY | $13,000 will entertain all offers. Reduced 3-18-2018 | $14,999 listed on 6-21-2016
Suzanne (DelVecchio) Glenn | | 214-616-9792 or 585-794-0762
Located between Rochester & Syracuse on Lake Ontario.  26 foot.  Mileage estimated at 54K.
Interior description: Dinette with Captain Chairs in living space; Kitchen with stove, oven, refrig/freezer, sink; Rear master with Full sized bed. Dinette converts to bed in front.  Wet bath with commode, shower, sink. Lots of storage throughout. Fabric upgraded.
Exterior description:  White with black/Maroon accents – repainted by prior owner. Has storage pod, on-board generator, heat and A/C, house batteries separate from engine battery. Switch installed to interchange batteries (learned at one of the rallies.)
Video at https://youtu.be/GqUvrTXWK4k.
---
NEW! | 1977 Birchaven 23′ – White
IA | $20,000 | listed 5/9/19
Collin Witwer | 612-419-2111
All typical updates. Very special condition – 180,320 miles. Scooter Carrier, Roketa Option. Location – Traer, Iowa
---
1977 Royale
BC | $22,900 USD | listed 5-16-17
Doug Brown | | 250-307-0661
Dry side bath
Rear twin beds with new custom mattresses
6000W Onan generator with 301 hours
Over 20 years of maintenance records
97,500 miles
---
1977 Royale
MO | $10,000 | listed 8-7-18
Larry | | 651 260-9037 or 651 343-0046
403 engine with 53,000 miles, rear full bath, front seats recovered, carpet removed, interior wall behind passenger seat removed, new air bags (original style ). Mechanical work, including brakes (new lines, master cylinder, etc), new ball joints, tie rod ends, fuel lines, windshield wipers converted to electric. Cabinet doors removed for refinishing (all hardware and screws still available). Most everything is there except dinette table and bunk beds. Needs a good home. I bought it to refurbish, but found that I'm not up to the task. Located in Forsyth, MO.
---
NEW! | 1977  Royale 26'
OR | $31,900 | 152,500 miles | listed 5-15-19
Dan MacKinnon | | 503-639-8772
I have been privileged to be the second owner of this beautiful GMC motorhome. It was purchased in 1993, in Garden Grove, CA, from a widow who told of their wonderful travels, but had little useful vehicle information, other than, "it was always kept under a carport." However, the husband's log book indicated he had kept up on maintenance, repairs, and made no important changes to the vehicle.
Starting with 93K miles on the vehicle, my wife and I brought it home to Portland, Oregon. We kept it under a large tarp for the first year while we built its own RV garage. The replacement engine, an Oldsmobile 455, has had plenty of power, so we have not made extensive powertrain upgrades. The vehicle handles and tracks very well, so we have not made extensive alterations to the suspension. The paint's appearance is great, but I can see that a stylish design would really bring out the vehicle's beauty.
The interior has been enhanced, however, as our goal was to maintain the GMC's design ambience, and to show off the homey beauty of the Coachman walnut interior. This coach has more interior storage space than any other GMC I have seen. With the table folded down, the living area is extremely spacious. As this Royale model was the top-of-the-line, party-model, the bedroom is larger than in other GMC models.
After 10 years of hoping my wife's interests might change and praying for my eyesight to improve, it is now time to free myself of quarterly engine warm-ups and maintenance duties, — and allow another family to enjoy this wonderful vehicle. Here are its specs and history:
Engine: Oldsmobile 455-cu in, rebuilt by Winterfeldt (52K miles on it), including distributor, carburetor, 80 amp alternator, Hayden fan clutch, water pump, and final drive 3.42 ratio upgrade; Aux Oil cooler; Lower Radiator Guard; Digi-Panel gauge and alarm panel; Tachometer; Vacuum gauge; Altimeter; External Temp Sensor.
Transmission: 16K on Transmission rebuilt by Snow's in Redmond, OR.; Speedometer correction adapter; Transmission cooler – Long TruCool.
Tires, Brakes & Suspension: Electro-Level-1 with two operating Dana air compressors (recently rebuilt) with gauges and controls on driver's arm-rest, including safety and operational upgrades; Two (extra) NIB Firestone air bags; Six Bilstein shock absorbers; 6 Bridgestone Tires, load range E (with 24K miles), on 16.5" original factory chromed wheels; Spare tire has a solid fiberglass "GMC" cover. Front suspension all overhauled, aligned, and modernized with new linkages and ball joints; Brake system has a Supplemental Safety Vacuum Pump and Sensitized Brake Booster;
Cockpit: Seats: Ford – spotless fabric, recline & swivel for house use; Custom upholstered center console contains 2 stereo speakers, 1 CB speaker, 2 map shelves, 2 cup holders, and display mount; Radio – JVC AM/FM/CD, MP3 capable, CD changer controls, separate stereo speakers for D&P, also bedroom; CB Radio – Midland built into driver's arm-rest, has two mirror-mounted 52" long-range antennas.
Ventilation: D&P Side-window air-scoops; 4" diam cable-controlled floor-vents (these vents provide super ventilation such that the AC is seldom needed while traveling); Two Maxxair vent-hoods.
Body: Very good condition; Only slight unrepaired damage; Repainted with Imron by previous owner, some minor wear/chips/abrasions; Always stored undercover/garaged; Chrome is faded yet presentable; Bike-rack – Turbo, carries two bikes; Ragusa aluminum door-step and front-bumper step.
Living area: Solid-walnut interior by Coachman, has been professionally refinished (only used once since); Carpet throughout is in excellent condition; Separate closet with  26" wide doors; Additional lighting and outlets throughout; Levelor day-and-night cellular window shades treatments with upholstered retainer valances.
Bedroom: Custom Warm Window insulated draperies; Mattress – Sleep-n-Aire, queen, custom foam; Assisted lift & supported bed deck with huge storage space beneath.
Bathroom: Separate bathroom with fan & door; Toilet – Thetford Aqua-magic Galaxy; Shower – Separate with bi-fold door and light.
Kitchen: Oven – Sharp convection/microwave combo; Refrigerator – Dometic Royale 8 cu ft. 3-way (LP/120v/12v), with custom door panels; Range – Atwood 2-burner; range hood with 2-speed fan; Water pressure/accumulator tank; Faucet – Delta; LP gas detector; Wine cabinet has been converted to dish storage; new matching Formica on kitchen surfaces and fridge doors.
Dinette: Table – Custom Crafted, solid oak, stowable (easily deployed by a single lever); Custom built & upholstered J-sofa; (contains a stored picnic table with seats, 2 outdoor folding-chairs, and 2 large storage areas beneath.
Windows: D&P windshields have been replaced; Exterior privacy-sunscreen wraps all front windows; Privacy curtain behind D&P seats and on door-window (curtains are stored away when not in use — so they're not blowing in the breeze during travel); Tinted-glass in living areas; See "Bedroom" and "Living areas" above.
HVAC: AC (center); Fans– Fan-tastic (front & rear); Furnace (new) – Suburban Dyna-trail LP 24,000 BTU; Thermostat – Airguide; Cooling assisted by two (L&R), full length, Zip Dee awnings and awning side-screen.
Audio/Video: TV: Winegard antenna with amplifier, cabled to kitchen and bedroom.
Water: Water heater (new) – Atwood 6 gal, gas/120v/engine heat, auto-igniter; Fresh water supply 40 gal.; Macerator – Par pump; Two waste water tanks (grey & black); Rear-frame skids protect waste water plumbing.
12v & 120v Electric: TrueCharge 40+ battery charger; 4-battery wiring (1 battery provided); Battery selection switch; Shore-power GFCI and surge protection; Additional light fixtures; Dual automatic transfer switches detect and select 120v, battery, or MG. Onan 6Kw genset with updated control board and replaced drawer slides.
LP Gas: 19.8-gal horizontal tank, with safety valve change installed.
Information: Includes the complete set of manuals for this year/model, plus loads of tips, magazines, technical articles, factory bulletins, etc. Also includes important spare parts and collection of useful used parts.
Photo Note: Some of these photos are purposely distorted by the wide-angle lens used for enhanced views.
---
1978 Eleganza
MI | $25,000 | listed 8-18-17
Greg Smith | | 313-886-8546
Mechanically sound 26 foot GMC with 40,000 miles on the engine and 120,000 miles on the coach. I took my family of 7 on many memorable highway adventures in this coach, mostly in the late 90's (twice to California from Michigan among many other trips).  The coach drives like a dream, please read over the upgrades and if you have any questions please contact me.
Sleeps 6, seats 13 for Tailgate Parties
Original Interior(needs front headliner and Roof Vent), Original Exterior Color
Current owner since 1995
Maintained by Cinnabar Engineering since 1994
Convenience Upgrades: Large Rooftop Pod, 2 Rooftop A/C Units, Two "Fan-Tastic" Roof Vents, Top Mounted Remote Control Spot/Flood Light, Rear Ladder, Front Bumper Fold-Down Step, Screen Door with Fold-up Step at Entrance, Side Window Fresh Air Vents for Driver and Copilot, Caspro Quick Steering (Plus Original Steering box), Full coach dust
Safety Upgrades: Caspro Disc Brakes on Mid-Axle (Plus Original Drum Brakes), Auxiliary Vacuum Pump for Brakes, Caspro Positive Shift Kit, Alcoa Wheels (7), Bilstein Shocks, Roof Mounted Air Horns
455 Jasper Engine with 3.42 Final Drive (Plus Original 3.07 Final Drive, Complete
Headers (thermal coated) into a 3 inch exhaust
Driver adjustable ignition timing with knock sensor
Generac NP66G 6600 Watt Generator (Model 096000-3, S/N 3104828) ​
---
1978 Eleganza II
NY | $10,000 | listed 6-21-16
Suzanne (DelVecchio) Glenn | | 214-616-9792
Original w/ 112K Mi; Wet hot kit and bath; rear BR w/ full; Sofa and dinette convert to sleep many; lots storage; owned by mechanical engineer, George DelVecchio.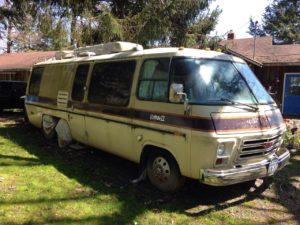 ---
NEW! | 1978 GMC ROYALE
CA | $26,000 | listed 10/30/18
Jackie or Paul Jones | | 661-821-9815 or 360-813-4919
116,000 approx. miles. Many upgrades. Engine replaced at 55,000.  Has been lovingly cared for with most all systems replaced or upgraded.   Well known in the GMC community and she has seen many rallies.  We have had many wonderful memories in the 11 years we have owned this coach and have met a great many people in the GMC community.  Our life has taken us in a different direction and we have decided to go with a bigger coach.
All expenditures, repairs, replacements and upgrades have been documented, listed and information is available.
Appraised for $41,000 in 2017 by Jim Kanomata.
FEATURES:
Manny one-ton front end
403 Engine / Final Drive:  3.70
Heavy duty Aluminum radiator, replacement in 2016
New laminate flooring and carpet
Front tires replaced 2017, rear 2014.   Seven Alcoa Rims
Howell Electronic Fuel Injection System
Quad four-bag system with Wireless Remote Control
Rebuilt heavy duty transmission – good for towing and is tow ready.
Generac Generator
Microwave / convection / Grilling Oven   Newer stove top
New Generation Dometic Refrigerator, very roomy
Day and night shades with valances throughout
9" Brentwood Gel Infused HD Memory Mattresses
L.E.D. lighting throughout
Fantastic fan in bathroom, two coach air conditioners
Toilet Riser installed
And more …..
---
1978 Royale
CT | $17,000 | listed 11-10-16
Roderick White | | 860-434-2673
Very good condition, ready to travel. Has many extras including awnings. Call for more information.
OR | $20,000 | listed 11-2-18
Dave Tolle | 661-904-6781 |
Beautiful coach inside and out. No mechanical issues. All systems work.
---