---
In Spring 2017, GMCMI hosted a Vintage Motorhomes Celebration
at the Heart of Oklahoma Expo Center where technical seminars,
meetings and fellowship involving these diverse and yet similar vehicles was held.
Click here to read about the event and view photos.
We have started to compile a list of motorhomes and hope to continue to
collect additional information on these wonderful vintage coaches.
If you have additional information you would like to share, email .
Thank you!
---
>>

Airstream
---
>>

America | Division of National Mobile Health Care – Rochester, Minnesota
---
>>

Amigo | San Marcos, California
---
>>

Apollo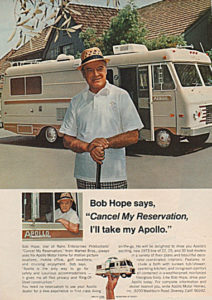 ---
>>

Archos Motorhome | Nappanee, Indiana
---
>>

Avco
---
>>

Banner MH | Elkhart, Indiana
---
>>

Barth
---
>>

Cabana | Forest Grove, Oregon
---
>>

Champion | Champion Home Builders, Dryden, Michigan
---
>>

Chinook
---
>>

Coachmen
---
>>

Concord | Champion Home Builders, Dryden, Michigan
---
>>

Condor | El Monte, California
---
>>

Cortez Motorhome

(from Wikipedia, the free encyclopedia)

Cortez Motorhome was a Class-A motor coach made in the United States between 1963 and 1979, with 3,211 units built.

The Clark Forklift Company began making these small motorhomes in 1963 in Battle Creek, Michigan and are commonly referred to as Clark Cortez motorhomes. Class-A motor coaches are built as an integrated unit, including the chassis and engine, whereas Class-B and C motorhomes are built on top of an existing truck chassis.

A four speed manual front wheel drive transaxle was used to eliminate a driveshaft tunnel that would have increased height or diminished interior headroom.

Early units used a Chrysler 225ci industrial slant-6 engine. In 1969 a V-8 engine was introduced, using a Ford 302ci engine but still using the 4-speed manual transaxle. In 1971, the Oldsmobile Toronado front wheel transaxle with a 455ci engine in conjunction with a GM 3-speed automatic was used.

In 1970, Clark Forklift sold the Cortez Motorhome division to Alco-Standard's Kent Industries located in Kent, OH. The motorhomes produced from 1971 are commonly referred to as Kent Cortez motorhomes. In 1975, the company was acquired by 26 owners of Cortez coaches and production continued through 1978 when the company folded. A final batch of units were completed by a bank in 1979.

James Krantz purchased the tooling, spare parts, and a few unfinished units around 1980 and moved operations to Lafayette, La. There under the name Cortez Inc., he sold parts, performed service, and did robust drivetrain conversions to earlier model Clark Cortez units, converting them to the V8 automatic transaxle, similar to that found in 1970+ models. Operations ceased in Lafayette around 1990.

Clark management had envisioned a variety of uses for the Cortez. They were made as mobile offices, classrooms, and ambulances. NASA used a Cortez to shuttle astronauts to the launch pad, which now resides in a museum at Cape Canaveral.

Cortez motorhome owners included Vincent Price, a devoted fan of this early motorhome. Cortez Motorhomes still enjoy a devoted following. Aficionados prefer its all-steel body despite rust issues, its smooth ride, and its moderate size.

Other links about the Cortez Motorhome:
---
>>

Cutter | Evergreen, Alabama
---
>>

Discoverer | Rectans Div. of White Motor Corp, Brighton, Michigan
---
>>

Dodge Travco
---
>>

Elegance | Riverside, California
---
>>

Executive | Executive Industries, Anaheim, California
---
>>

Explorer
---
>>

Fan Coach | Lagrange, Indiana
---
>>

FMC | Santa Clara, CA
---
>>

Georgie Boy
---
>>

GMC Motorhome (23 & 26 foot)
---
>>

GMC Motorhome (20 & 24 foot) – Anthony Industries
---
>>

Grumman Motorhome | Garden City, New York
---
>>

Kayot's 73 Royal | Indianola, Iowa (1301 N. 14th St)
---
>>

King's Highway | Mobile Industries, Compton, California
---
>>

Kingston Motorhome | Yellowstone Motorhome, South Bend, Indiana
---
>>

Landau Continental | Anaheim, California
---
>>

Majestic Motorhome
---
>>

Mobilux | Evergreen, Alabama
---
>>

Newell | Miami, Oklahoma
---
>>

Norris
---
>>

Pace Arrow
---
>>

Revcon Motorhome

(from revcon.org)

The Revcon motorhome dates back to 1968, when a man named John Hall conceived the idea of a low-profile, front-drive coach with a lightweight aluminum monocoque body. This was not entirely a coincidence since John was the stepson of Wally Byam, the founder of Airstream.

John Hall worked for Airstream for 20 years as an engineer and later in marketing. Articles make the case for Hall being the driving force at Airstream in trailer design. That he dedicated himself to starting Revcon in 1968 was no surprise.

Production started in Fountain Valley, California, with the 1972 model using the Oldsmobile Toronado 455 engine and drive system. By the end of the 1970s, however, Olds had downgraded its drive systems, which were no longer suitable for motorhome use, so Revcon designed its own front-wheel drive system using the Chevrolet 454 engine. They also redesigned the nose of the coach at this time to the beautiful streamlined shape that was in use with minor variations until the end of production in 1989.

It's not hard to imagine the impact these coaches had 20 and 30 years ago when they were so far ahead of all the competition that they still do not look outdated in today's world.

Other links about the Revcon Motorhome:
---
>>

Routemaster – Rek Vee Industries, Scarborough, Ontario
---
>>

Sightseer – PRF Industries, Mt. Clemens, Michigan
---
>>

Silver Motor Coach

(note from Eric and brochure from bdub.net)

This is a brochure (left) we picked up in 1991. Silver Motor Coach was using actual GMC fiberglass body parts to produce these coaches. We actually purchased several parts to repair our GMC. By the time we met them, they had purchased the Revcon name and were producing 4×4 class C motorhomes on Ford 1 ton chassis. The also produced the somewhat famous Goliath, a 4×4 class A. I have no idea how many GMC replicas they produced. We only saw the one in this picture. – Eric Tipton

Through research for this posting, we have been informed that there were three produced. The two pictured in the brochure above and one that is currently for sale on the Bethune Sales Company website.
---
>>

Skamper
---
>>

Southwind
---
>>

Sportscoach – Chatsworth, California
---
>>

Starcraft
---
>>

Superior Motorhome – Shellor Globe, Lima, Ohio
---
>>

Swinger
---
>>

Tiara  & Ultra Van Motorhomes

(from curbsideclassic.com)

The Tiara Motorhome was the successor to the Ultra van which used the Corvair engine. There were two shortcomings from using the Corvair engine in the ultra-light Ultra Van: it was underpowered and Chevrolet discontinued production after 1969.

Front-wheel-drive may have been a bit of expensive over-kill for the personal-luxury coupe 1966 Toronado, but the Oldsmobile engineers who created the unitized power package (UPP) unleashed a revolution for powering motor homes. It was just the ticket: a compact, but very powerful and slick package to stick in the front end of an RV.

And the allure of the Olds UPP blazed brightly, in this case, in the eyes of Chuck Burgess, Ultra's head of Engineering. So Burgess took the basics of the Ultra Van, including its airplane-like alloy body and low floor, and reconfigured it to accept the UPP. The result was the Tiara produced by Belco, Inc. out of Hutchinson, Kansas.

Other links about the Tiara & Ultra Van Motorhomes:

www.corvaircorsa.com (Ultra Van)
---
>>

Titan – Champion Home Builders, Dryden, Michigan
---
>>

Travoy Motorhome

The 26′ Travoy was introduced in 1969 by  the Travoy Corporation out of San Jacinto, California. The Travoy featured a long aerodynamic nose that had two benefits: access to the engine and high speed.

General Motors power and transmission

Front wheel drive 455 cubic inch Rocket V-8 with four-barrel carburetor driving the front wheels through turbo-hydromatic 400 Series three-speed transmission.

An 8.5 to 1 compression ratio is adjusted to provide efficiency on no lead, low lead and regular fuels. Included a heavy duty towing service Harrison radiator. All components are of standard General Motors production as utilized in the Toronado. Exhaust is full-flow dual.

A stock Travoy was taken to the salt flats, where it set a new motorhome record of 97.613 mph.

Other links about the Travoy Motorhome:
---
>>

Triple E
---
>>

Unger Crown Commander – Unger Coach Company, Madison, Ohio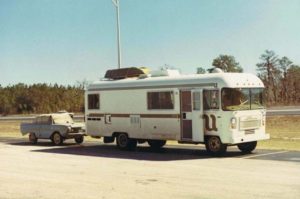 ---
>>

Wayfarer
---
>>

Winnebago – Forest City, Iowa
---
>>

Xplorer – Brown City, Michigan
---
>>

Ultra Van Motorhomes | See Tiara for more information.

---
>>

PRF Industries

PRF Industries has a close tie to the GMC Motorhome. Peter R. Fink (PRF) founded Gemini Corp. in Mount Clemens, Michigan which was the interior upfitter for the 1973 and 1974 GMC Motorhomes. They also built the Travco, Sightseer and others.